Tamara Janeli is a professional makeup artist based in New York City and is currently a part of the Givenchy Beauty Team of Makeup Professionals.
I met Tamara backstage at New York Fashion Week Fall 2013 where she was working her magic for the Love Binetti show in the Meatpacking District.  I was demonstrating skin prep products for the models and we were exchanging makeup and skincare tips. Tamara and I instantly hit it off and we have been following each other ever since.
This mother of two has been battling her own skin issues recently and reached out to me for help. "I never in my life had acne and in my late 30s it started…my skin just went crazy," she told me via Instagram DM. "I want to achieve clear, even skin and I love natural skincare. Everything is packed with so much crap and I see more girls my age getting problems with their skin."
I sent her my 23 Skin products and she has been creating super potent face masks and body scrubs ever since. I love the combinations of oils she has been mixing the products with including Carrot Seed Oil.  But the best part of her 23 Skin ritual for me was watching her daughter help in mixing fresh masks for a nighttime beauty routine that makes for amazing mother-daughter bonding time.
I couldn't wait to interview this creative professional on her first beauty memories and her must-have products. Read the full interview below.
1. Growing up, what were some of your first beauty memories? 
I grew up in the 90's post soviet Georgia, a time when women did not really have the opportunity to buy and use a lot of beauty products. It was hard to find high quality makeup, perfumes, and anything beauty in general.
Homemade moisturizers and anti-aging creams were available with local dermatologists and estheticians, and I must say that those products worked quite well, even better than many modern skin care brands out there now!
My first memory of beauty starts with my grandmother who only had 3 items in her beauty routine: Rose water toner, homemade which still had rose petals inside, powder foundation & red lipstick.
I still remember the smell of her lipsticks. I recently found a perfume by Maison Margiela 'Lipstick On' and the scent brought back all my childhood memories.
2. Who taught you about beauty or was it something you discovered on your own?
I think everybody is born with the sense of beauty. As my mom says, I always had an eye for beauty. I would color her nails and apply lipsticks on her without any mess when I was only 3 years old and then at the same age I had a collection of red lipsticks that my grandfather was bringing especially for me from Russia.
Those were my first baby steps into beauty.
Then in 2004 I moved to NYC and my passion for beauty slowly became my profession and I am so glad that I pursued this profession.
3. Who is your favorite celebrity that always slays her beauty look?
I have so many in my head, but it's truly their beauty teams who do an amazing job and make them gorgeous every time they step out.
For example, I love Margot Robbie with her fresh and edgy looks. One of my other favorites is Lupita Nyong, who always looks amazing with her beautiful glowing skin.
4. What are your Beauty-rituals?
A.M.
Hydration, moisturizing, masking!  I wake up and drink a big glass of water with my HUM supplements first thing in the morning.
After washing my face, I ALWAYS use a toner. My favorite is just a simple rose water or witch hazel with aloe. I recently used Leven Rose 24K Gold Rose Water and I love it! I usually change up my skincare products.
Skyn Iceland products are the ones I'm using currently and I definitely can say that they are great. I love the Pure Cloud Cream, Icelandic relief Eye Cream, & Nordic Skin Peel.
P.M.
After having makeup on all day I go crazy with cleansing. I love Tatcha skincare products and use their Pure One Step Camelia Cleansing Oil followed by Indigo Soothing Rice Enzyme Powder for that squeaky clean feeling.
I don't love face oils during the day because it actually breaks down the foundation, but for nighttime I'm a huge fan for deep hydration. I use a toner & serum from Tatcha and Leven Rose Carrot Seed Oil mixed with a couple of drops Tea Tree oil to prevent any pimples and breakouts.
5. When traveling, what's a must-have product in your carry-on?
My must haves are moisturizer, mascara and a lip balm with a tint. Currently I'm obsessed with Givenchy's Le Rouge Perfecto, which is part of Givenchy Skincare.
6. What does self-care look like for you?
Living in busy NYC, being a mom and juggling with work and everything else I find it a little hard for women to find time for themselves. Self-care for me is taking care of ourselves not only physically but, mentally.
Also, listening to our body, eating healthy, and using healthier products. Taking care of your skin, not just buying that expensive foundation every magazine and beauty influencer raves about… I can go on and on…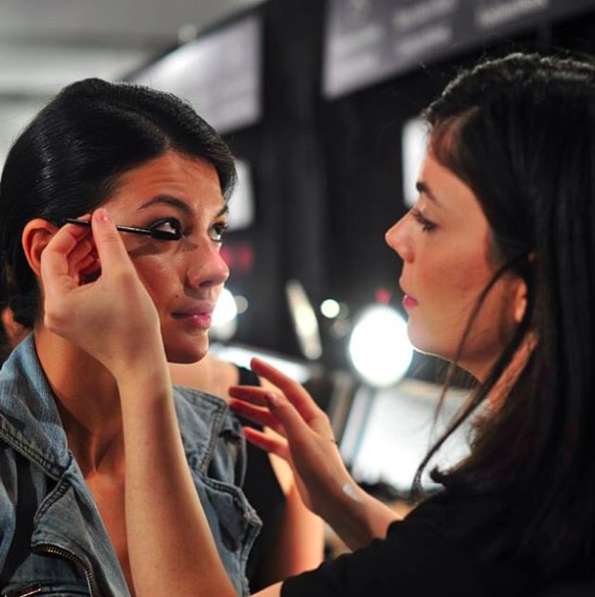 7. How do you pamper yourself?
To be honest I don't even know. For some women pampering means buying new makeup, getting their makeup & hair done by a professional artist or even getting their nails done. I am in the beauty industry and I feel like I do that on a daily basis to myself, by myself.
8. What's your favorite go-to LOCAL spots to get a treatment? 
I don't do any treatments at all just a spray tanning, if that counts.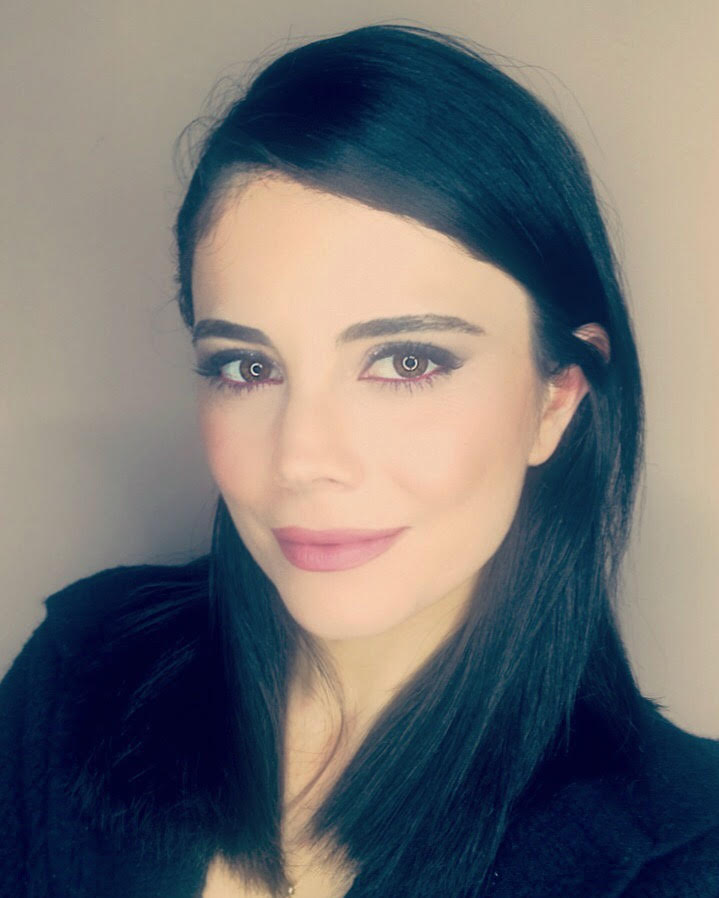 9. Do you give yourself facials / body treatments at home? 
I'm really into natural and organic products especially for my face. I do masks and facials at least twice a week by myself. It saves me time and works great as well.
I recently got products by 23 Skin which makes all natural, paraben free, organic and fragrance free skincare. Matcha Clay Powder truly does an amazing job to my skin. It's all in one product: Facial +  scrub + cleanser. It brings out all that dirt out from my pores and leaves me with a beautiful glow after washing my face.
That's exactly what we all need and the best part is that you can do it yourself. I mentioned before that I do spray tanning, it is very important to exfoliate before every session, so another hit product for me and my body is the Seaweed Powder again, by 23 Skin.
It gently exfoliates and takes away dead skin cells leaving skin smooth and energized. You can use your imagination and do so much with these two products depending on the needs of your own skin type.
My daughter who is 8 loves to mix my 23 Skin masks for me. She is giving me ideas on which oils I should use for my next facial session and brings out every oil she finds at home. She asks me every evening if I'm going to a mask because she wants to get involved and have fun making it for me.
And that's pampering for me.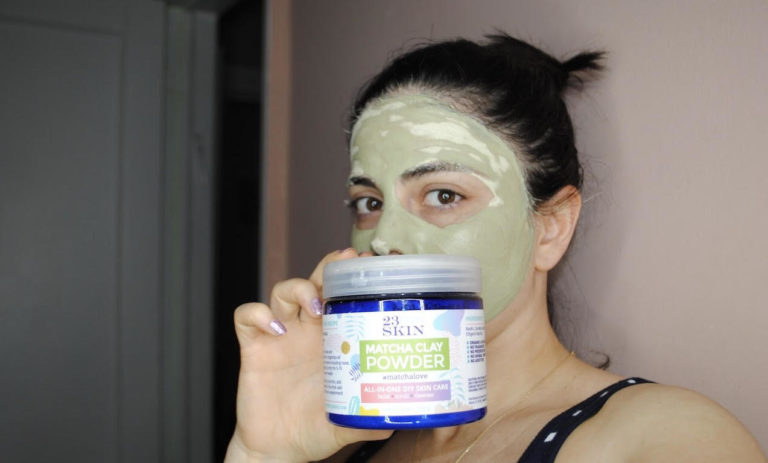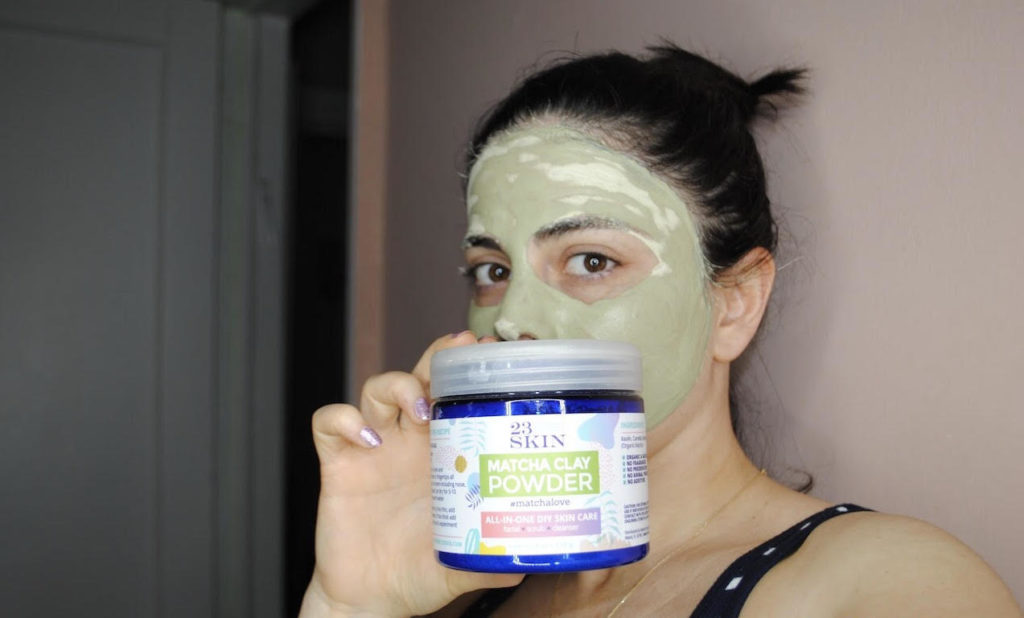 10. Are you a bath or shower person?
Can be both depending on my mood.