When we think of seaweed, the first thing that may come to mind is the annoying grass looking stuff that wraps around you when trying to go for a swim in the ocean or walk on the beach. While it's true that it is called seaweed, this washed up algae is far from the most nutrient-rich seaweed that is used in prestige skin care applications and the most exclusive spas today.
As someone who grew up in the spa industry and is a licensed esthetician, I can tell you first hand that all seaweeds are not created equal. The best spas in the world utilize seaweed in powder and liquid form in everything from spa body detox wraps and scrubs as well as in anti-aging facial services because they know that seaweed's true benefits for skin is powerful.
If you are seeking an Ariel-like complexion no matter what skin issues you are experiencing, seaweed will most likely have a solution for you.
For easy homemade do it yourself seaweed spa recipes, your best bet is to use a seaweed powder for skin.
Let's explore together what this super skin ingredient has to offer!
What is Seaweed Powder?
Seaweed powder is definitely a product you should have in your beauty cabinet stat. As someone who's been using seaweed for skincare since I was a kid, I most definitely know that this is worth your attention.
OK. So what do you need to know about seaweed powder skin benefits?

How it's made? Who it benefits? What are some DIY beauty recipes that you can try today at home?
Let me share with you all the seaweed tips you ever wanted to know…
A Scientific Review Of Seaweed
Seaweed includes a vast number of species of marine algae.
Which algae family does kelp belong to?
All the different types of seaweed belong to either one of the three categories: brown, red, or green algae.
One of the most nutrient rich seaweeds in the world is a brown algae from the family Fucaceae that is found in the North Atlantic Ocean.
It is called Ascophyllum nodosum and is also known as Norwegian Kelp. It has branched fronds that are a dark olive or yellowish green color. When presented in powder form, the seaweed retains this hue and gives off a strong, marine aroma.
While kelp is a broad term it may be confusing as it may refer to any number of alga species. That's why it's important to look for specific seaweed varieties, such as Ascophyllum nodosum; not just kelp.
So.. You're probably wondering how seaweed ends up in powder form, of course.
Seaweed Powder is generally seaweed that has been dried and ground up into a fine powder to make… . ground seaweed powder. The drying process is very important and may differ greatly changing the nutritional benefits of the seaweed powder.
Many seaweed powders utilize an oven drying process that speeds up how quickly they can produce the powder but the extreme heat leads to an inferior product. Instead look for seaweed that has been sun-dried; this way it ensures that the least amount of nutrients are lost and maintains the integrity of the sea plant.
The way the seaweed is sourced, harvested and handled is also very important as variations in this can make nutrients less available.
---
What Should I look for in a Seaweed Powder?
Unfortunately, not all seaweed powder is created equal.
This has to do not only with the source of the seaweed and how it's harvested and handled but also with how the powder is created.
Where do I buy good quality ground seaweed powder?
Look for sustainably harvested seaweed, non GMO, non irradiated seaweed that is sourced from cold North Atlantic waters to ensure the best possible and cleanest source. Pristine ocean environments, such as the North Atlantic, ensure that the seaweed hasn't been contaminated by human waste, nuclear radiation, and chemical or oil spills.
I always had such a hard time finding the perfect seaweed to use for my DIY skin care applications so I sourced it myself from the pristine waters of the North Atlantic – made, sourced and now bottled in the USA. You can find it at 23 Skin Seaweed Powder.
---
Sustainable Harvesting Vs. Mass Production Of Seaweed
There is a major difference between sustainable or wild-crafted seaweed powder and mass-produced seaweed.
There's a good reason for it: mass-produced seaweed that turns into powder is cultivated through human intervention. This means that they are farmed in the sea and can be modified in order to produce more as demand rises. With modification comes the risk, and subsequent result, of fewer nutrients and minerals found in the product.
Sustainable production, or wild-crafted produced seaweed, means that the companies realize that there is only so much seaweed available for human use. They then decide against mass production and only take from the sea what they need.
In fact, seaweeds like Ascophyllum nodosum may be harvested by trimming it and leaving enough of the plant in tact that it may continue to grow for years and years to come. Actually, if harvested in this way, harvesters are able to continue to reap from this incredible seaweed for up to 60 years! It truly becomes an unlimited resource.
When you look for brands that utilize sustainably harvested seaweed you can feel good about using it knowing that you are benefiting the environment as well as your skin.
How is Seaweed Powder Processed?
The fact is that seaweed is abundant with a variety of nutrients and minerals that are vital for humans, but the manufacturing process can limit its potential benefits.
Seaweed powder is relatively simple to make, but the way the seaweed is handled and processed is extremely important. Once harvested from the ocean it's important to carefully handle it so it doesn't begin to degrade. Seaweed that is hauled into trucks and dumped will start to compost. Instead you want seaweed to be carefully handled and quickly processed to maintain the integrity of the sea plant.
Next Seaweed in its whole form is placed in the sun to fully dry; some companies have drying floors, which are uncovered, that allow the seaweed to dry naturally. Others may use ovens to speed up the process, but the goal is to dry out seaweed, which is abundant in water, so much that it crumbles on contact.
As mentioned before, oven-drying heats up the seaweed and strips it of much of it's beneficial nutrients. So be sure to look for seaweed that is sun-dried instead as you will ensure a higher level of nutritional value.
Also, it's important the seaweed is sun-dried within 24 hours of harvest so it hasn't been sitting in piles wet for too long which causes the plant to decompose. Once the seaweed is dried, it is ground into powder.
The seaweed powder is then transferred to an airtight container and stored in a cool, dry place. You'll most likely get the powder in a jar, and it's recommended that you keep it there until you're ready to use it.
How easy is that?
---
Seaweed Powder Skincare Benefits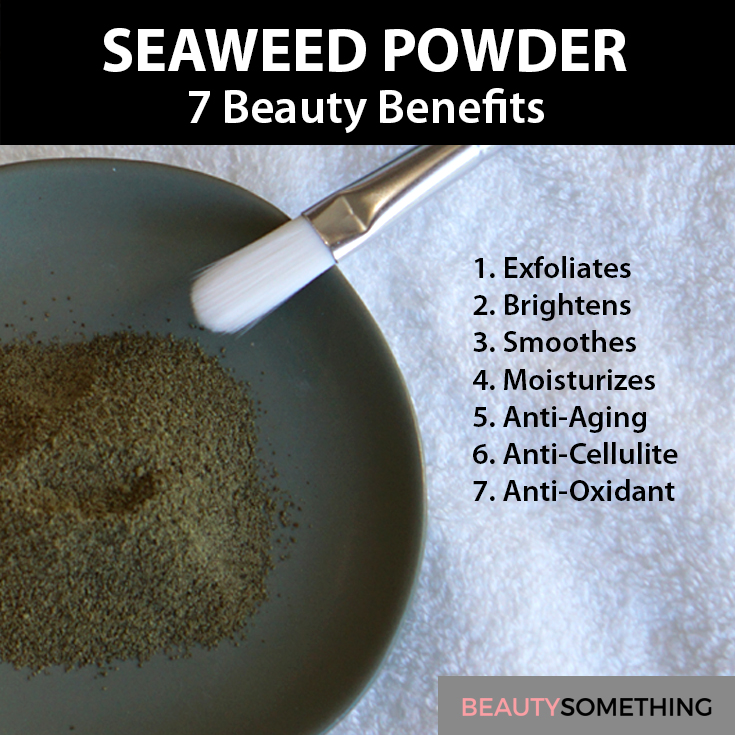 There's a lot to say about ancient uses of seaweed and its powder. Seaweed has been used for thousands of years and many ancient cultures including the Romans, Egyptians, Polynesians, and Greeks used it for it's healing benefits. Coastal communities utilized seaweed in abundance for its known regenerative effects.
There are so many skincare benefits of seaweed because it is so rich in vitamins, minerals, amino acids, and trace elements. Because these nutrients are plant-based, they are much more bio-available making them much more beneficial for your skin.
Less is truly more when you seek out nutrient-rich plants to derive complex vitamins and minerals as well as trace elements from your skin care products.
Seaweed = Multi-Vitamin, Mineral & Anti-Oxidant for Your Skin
When it comes to the vitamins and minerals that this sea vegetable contains it's like reading the letters in the alphabet! What makes this list so special is that they are all naturally occurring in this super aquatic plant. Plant based nutrients are more bio-available because they are more easily recognized by the skin than synthetic ingredients. That's why a pure Vitamin C serum that is synthetic will not be as effective as a plant based Vitamin C serum.
So always look for natural plant nutrients versus synthetic ones.
If all the benefits of this magical alga haven't convinced you to try it on your skin yet… just take a look at this chart below.
Skin Benefits & Nutrients of Seaweed Powder
[table id=3 /]
As you can tell, there are loads of seaweed powder benefits for skin, but if you need more of an incentive to get on board, here are a few others:
Gently exfoliates and brightens skin complexion for skin that glows
Helps smooth skin which is why people love to use it in cellulite treatments to reduce that orange peel appearance
Anti-oxidants that help reduce free radical damage that is the cause of skin aging
Moisturizes even the driest skin
Helps reduce the appearance of fine lines and wrinkles
The two lists above of skincare benefits cover the most incredible advantages that seaweed powder offers you, but by no means is this list extensive.
What I do know, from personal experience, is that seaweed powder can help smooth the look of skin and leave you with a glow.
---
Who is Seaweed Powder Beneficial For?
Think about that feeling you get when you swim in the ocean. You feel immediately recharged and rejuvenated. This feeling went viral on instagram with the popular hashtag: #vitaminsea.
Well, seaweed is a concentration of seawater. So if you don't live near an ocean or can't getaway, seaweed is the perfect way to get your #vitaminsea fix wherever you may be.
Seaweed is beneficial for everyone and for every skin type and age group.
I was only a child when my mother first started using seaweed masks on me, so even for the most sensitive skin types it is a perfect ingredient.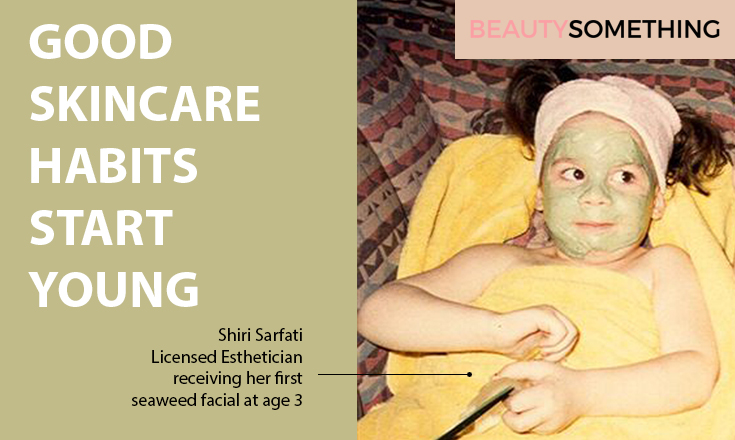 Seaweed powder is versatile and can help with a variety of skin issues. No matter who you are, this product will definitely be a product that you'll love using and experimenting with for skin applications from head to toe.
Who Should Avoid Seaweed Powder?
Seaweed powder for your skincare will work for most people. It does naturally contain trace elements of iodine as noted above. While iodine is not a known allergen, some people may not tolerate iodine too well.
I always recommend doing a patch test before trying any new ingredient or product.
Simply mix seaweed powder with an oil or even water, on your leg or hand. Wash it off after ten minutes and wait a day or so to see if you have any reaction. If you do, don't continue to use the seaweed powder.
You may also want to be forewarned if you dislike strong smells. Let's just say, seaweed powder is an acquired smell, but you may always add a few drops of your favorite essential oil to make it more aromatic.
I personally love mixing my seaweed body scrub with stimulating and invigorating Essential Oil of Peppermint. Always opt for pure essential oils for maximum benefits.
---
DIY Beauty Products You Can Make At Home With Seaweed Powder

You're probably aware that seaweed powder is one of the most used products when it comes to DIY skincare. It's for good reason, too: seaweed powder has minerals that do wonders for your skin complexion and with skin smoothness and softness.
Ingredients To Combine with Seaweed Powder
Seaweed powder can be mixed with just about everything, and you'll want to mix and match to ensure that you'll make a product that you'll love using daily!
Here are just a few of the ingredients:
Aloe Vera Leaf Juice
Coconut Oil
Sea salt
Calamine Powder
Olive Oil
Matcha Powder
Kaolin Clay
Charcoal
Argan Oil
Lemon
Egg
Honey
Top 3 Homemade Seaweed Powder Spa Facial and Body Recipes To Get You Started
We're going to quickly run through some of the great things you can do with seaweed powder.
Don't be afraid to get creative and experiment with different ingredients and aromas for a customized beauty program you can use daily.
1. Homemade Seaweed Powder Body Wrap Recipe for Cellulite
This DIY body wrap for cellulite I have been using for a few months now.
The recipe itself is quite easy and just requires seaweed powder, a carrier oil, essential oils and wrap tools; the total time it takes to do this wrap is just 30 minutes.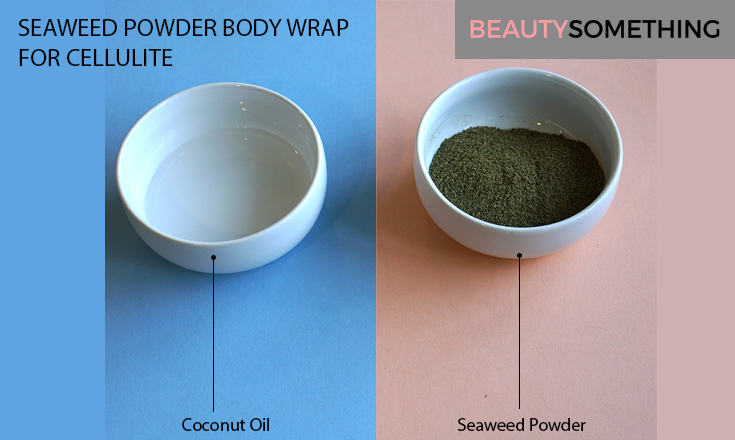 .
You Will Need
3 tbsp. Seaweed Powder (Buy it here)
6 tbsp. carrier oil
A few drops essential oil (grapefruit and peppermint essential oils are wonderful options)
plastic wrap
warm water
blanket or large towel
DIRECTIONS:
In a bowl, mix the powder, oil and essential oil together and slowly add the warm water until the consistency is thick and mud-like (not too watery).
Apply while standing in your bathtub or shower for a mess free application. If someone is willing to help you apply it – even better! Smooth over with hands or a large paint brush covering hips, thighs, buttocks and any other areas of concern.
Next wrap areas with plastic wrap. Ace bandages works as well and are reusable making them a bit more eco-friendly!
Grab a towel that you don't mind getting messy and lie on it. Then take another large towel and cover yourself. You may begin to sweat.
Rest for 20 minutes and then unwrap and shower the ingredients off with warm water.
Be sure to rehydrate by drinking a tall glass of cool water.
---
2. Homemade Seaweed Powder Body Scrub Recipe
This exfoliating body scrub is perfect to shed skin of dead skin cells leaving it soft and smooth.
The first time I did this scrub in the shower, I couldn't believe how my skin felt just after one time. It was silky and had a wonderful invigorating feeling on my skin.
It's so simple to make and is perfect to use a couple times a week all over body including buttocks, hips, elbows, knees and feet.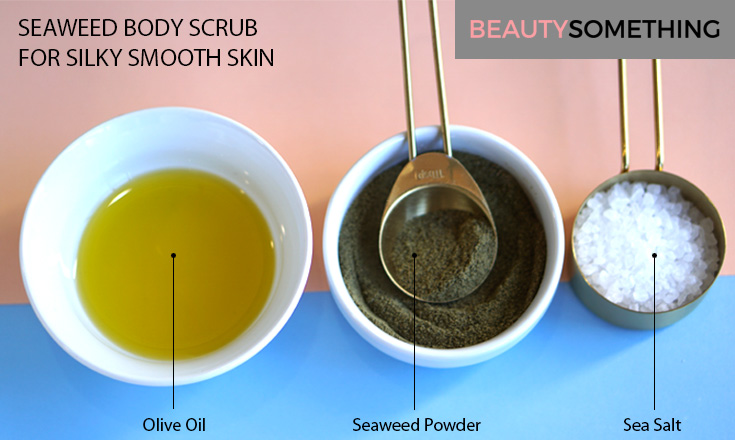 You Will Need:
3 tbsp. Seaweed Powder (Buy it here)
3 tbsp. [easyazon_link identifier="B001IAJIK4″ locale="US" nw="y" nf="y" tag="bsomethingusa-20″ cloak="y"]Sea Salts[/easyazon_link] (I like to use coarse sea salts)
3 tbsp. Olive Oil
A few drops Essential Oil (I prefer pure essential oil of peppermint)
Directions:
Combine all ingredients in a bowl and mix well.
In shower, massage gently all over body.
Rinse off well in shower. You may use a clean wash cloth to help remove completely.
Towel dry and follow with your normal body moisturizer
---
3. Homemade Seaweed Powder Facial Mask Recipe
This DIY seaweed facial mask is one of my favorites; that's probably because it's very simple.
All you have to do is mix seaweed powder with the juice of one aloe leaf, honey and some warm water, put it on your face, and leave it on for about 15 minutes before washing it off.
It's so gentle you can do it a couple of times a week! While the mask is on, you can actually feel your skin tightening. When you rinse it off, I love to massage it gently into my skin for a two-in-one face mask and gentle exfoliating face scrub treatment! It's definitely worth trying out.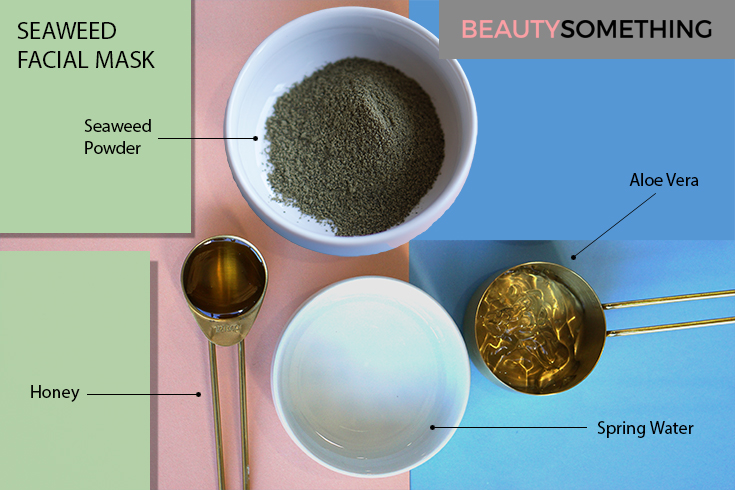 You Will Need:
2 tbsp. Seaweed Powder (Buy it here)
1 tbsp. spring water
1 tbsp. Aloe Vera Leaf Juice
1 drop essential oil (optional: I recommend lavender oil
Directions:
Mix all ingredients in a bowl until it forms a smooth paste.
Apply with fingertips or a gentle brush and smooth all over face, neck and décolleté.
Leave on for 10 – 15 minutes
Wash off with clean water. I prefer to use wet cotton to help gently remove my facial masks.
---
Conclusion
Seaweed powder is an incredible addition to any skincare routine. With so many uses, you'll use up your first jar of the product before you get to try them all out!
Remember to have fun when figuring out new DIY recipes, and if you have one you think we'll enjoy, please share it with us down below in the comments.
---
**This article is not intended to treat, diagnose, cure or prevent any disease.
Beauty Something Recommends