We have all heard of buttermilk, and probably tried it in a baking recipe of some sort, however have you ever tried it on your face?
Probably not, but you should!
A beauty secret that not a lot of people talk about, however history says Buttermilk dates back to antiquity where people used to take bath's in milk for its skin benefits, but what they don't know is that "milk" wasn't just any milk, it was a very specific type of milk; Buttermilk – one of Cleopatra's most famous beauty secrets.
Cleopatra was known for her famous complexion and soft skin. Her famous rituals of bathing and masking in buttermilk and honey have become sought after beauty treatments ever-since.
She actually popularized taking milk baths, which has become a staple treatment used in spas around the world even today.
In the early 1900's, bathing in buttermilk was very popular among famous actresses in order to achieve their smooth skin as it acted as a natural astringent that tightened the pores.
The live bacteria and cultures in buttermilk, put all the good stuff back into skin and also made a great cleanser.
In addition, the naturally occurring lactic acid found in buttermilk lightly exfoliates the skin for a smooth complexion.
In medieval times, buttermilk was known to be used to restore complexions that were dull during the cold months as a "first-class restorative" method for the skin.
While we think of buttermilk as a tasty drink, we might have to start to think about incorporating it into our beauty routine for it's hidden benefits.
I think diving into the many benefits of Buttermilk is something that we should all know about! Let's explore together what this super skin ingredient has to offer!
What is Buttermilk Powder Used For?
Everyone that ever hears the word buttermilk probably thinks of baking some biscuits. Right?
However, what exactly buttermilk is has many people confused…
People believe it's the liquid that is left over from milk that was turned into butter, however that type of buttermilk is rare in the Western world.
Nowadays, in order to find the true buttermilk that was used in history, it needs to be made on the farm the old-fashioned way-where the taste is the perfect combo of sweet and tart; making it a baking holy grail ingredient.
The buttermilk that we traditionally have now is made up of milk, sugar, lactose, milk protein, casein, and water of course and has been homogenized & pasteurized with lactic acid cultures.
Long story short…
In order to have buttermilk, it involves the process of making butter, so first milk has to stand long enough for the cream to go to the top which separates the milk and cream.
That cream is then churned which results into a separation between the fat & liquid. The fat being the butter, and the liquid being the buttermilk – that is full of minerals, fatty acids and proteins that are beneficial for the skin.
Buttermilk is known as the "healthiest" milk due to its many benefits including a rich source of vitamins which are very useful for the skin and our overall body!
Due to buttermilk's health benefits, it has been used to help with stomach issues, blood issues, and is also used to treat certain diseases of the kidneys!
In the 1800's doctors swore that buttermilk baths helped with a variety of skin conditions such as scaly eczema.
According to Dr. G.A. Moses, his patient had severe scaly eczema for many years that was itchy as well.
They gave him a variety of remedies but the only one that worked and was curing the patient, was buttermilk baths that the patient took for months and was the only treatment that gave relief.
It was then valued by the medicine world as it helped with a variety of problems without causing any harm.
Difference Between Buttermilk & Regular Milk?
Buttermilk summed up is basically lower in calories, with more good for you things than regular milk.
First off buttermilk is higher in calcium than any other milk, and is lower in cholesterol than regular milk by 10mg a glass.
It also has the highest percentage of essential amino acids, it has 5 more essential amino acids than regular milk.
There is also more riboflavin and thiamine in buttermilk than regular milk.
In comparison to yogurts, that are good for the stomach, buttermilk is digested very easily in the same manner because it's more soluble than regular milk.
What Are The Vitamins in Buttermilk?
Riboflavin
First off, Buttermilk contains Vitamin B2 which is key to healthy glowing skin.
Basically Riboflavin ensures the growth of tissues in order for there to be healthy cell turnover which is vital for a glowing complexion.
Also those that are prone to acne, will find it useful to know that Riboflavin is known to keep mucus secretion at ease to prevent future breakouts, and also already due to healthy cell turnover, riboflavin helps with clearing the skin of current breakouts.
B12
Next beneficial vitamin, is B12. This vitamin is known to help those that suffer from dark spots or pigmentation.
Vitamin B12 is known to control the production of pigment in the skin, while also regulating proteins metabolism rate, this in the end results for the production of healthy skin cells. If you have damaged skin from the sun or acne, B12 helps to repair these concerns.
Probiotics
As with most dairy products, Buttermilk contains healthy probiotics. In fact, buttermilk is known to have the most probiotics in comparison with other dairy products.
This is vital for skincare, because probiotics helps for moisture to absorb efficiently, which in return delays the signs of aging.
Dermatologists recommend probiotics for people with inflammatory skin conditions as it has a calming effect on the skin.
Probiotics also strengthen the skin barrier to help with the skins defenses against foul bacteria that can cause skin damage.
Potassium
Buttermilk is an excellent source of potassium, which can promote moisture levels in your skin, for smoother looking skin tone.
Often times people that lack potassium suffer from dry skin. Potassium is often used in the skincare and cosmetics world in order to adjust pH levels which is important for skin protection against bacteria.
What Are the Skin Care Benefits of Buttermilk?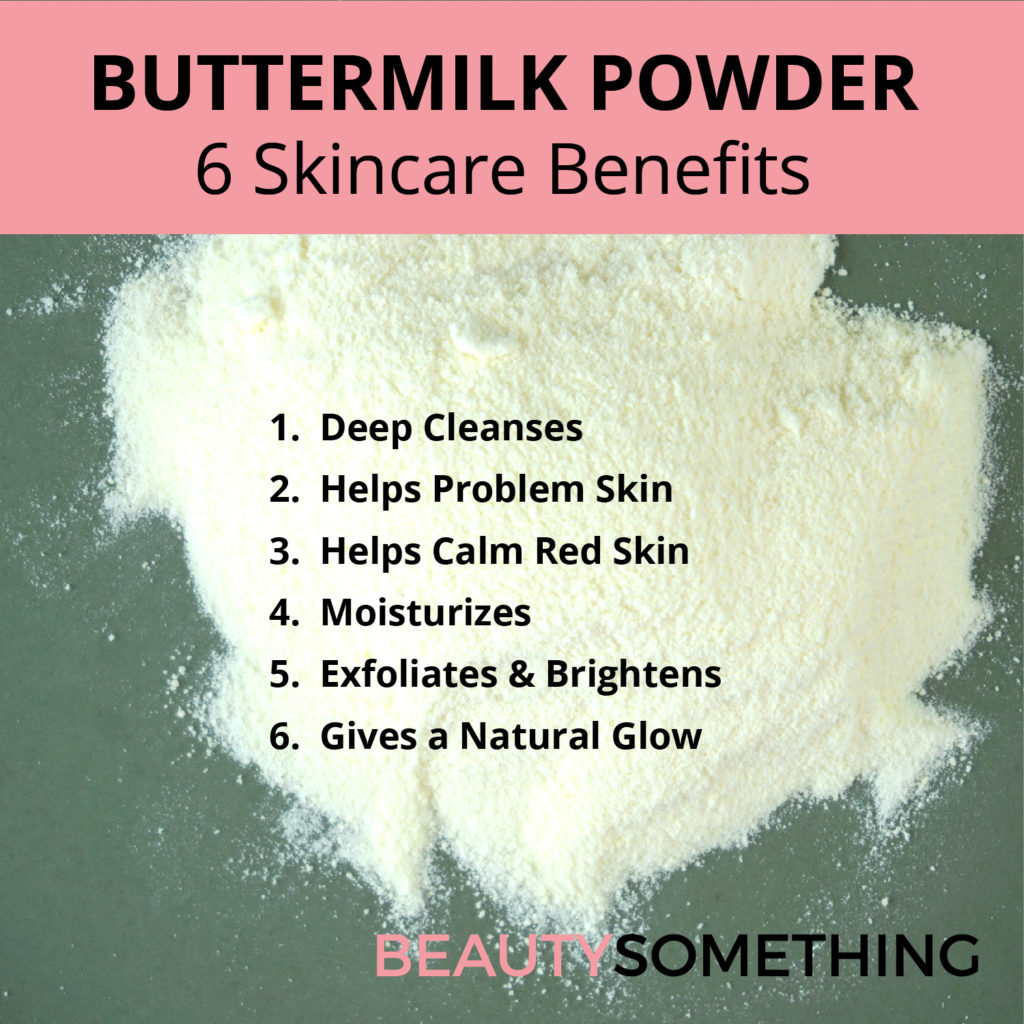 Let's dive into why people through the ages loved using it on the skin.
Exfoliating and Brightening
First off, buttermilk has naturally occurring milk proteins and lactic acid to exfoliate the skin, rejuvenate the complexion, brighten your complexion, and give a smoothing effect to the skin.
The brightening effect of buttermilk from the lactic acid is also known to fade the appearance of dark spots or discoloration and help skin problems like blemishes, making it a great way to get rid of those annoying spots on your face from the sun or from acne.
Science…
Basically, it all comes down to science, the naturally occurring alpha hydroxy acid + lactic acid exfoliate and brighten the complexion. The lactic acid in buttermilk, is what is classified as an alpha-hydroxy acid that is very common in the skin care world.
In fact, buttermilk has the highest percentage of lactic acid when compared to other types of milk.
Deeply Cleansing and Firming
Buttermilk is a great way to hydrate and deeply cleanse your skin. The astringent properties aid in cleansing the skin thoroughly for a natural glow. While deeply cleansing your skin, buttermilk also nourishes the skin, and the lactic acid gets all the nasties out from the deepest layers of your skin.
Buttermilk's astringent properties also help minimize the appearance of pores as well as make the skin appear firmer providing superior anti-aging benefits .
Acne Scars, Sunburn, Skin Brightening
Just when you think what can buttermilk not do? Think again…
If you have acne scars, buttermilk is known to help in making them look less noticeable. The reasoning is, that with consistent usage of buttermilk, the appearance of spots and blemishes are faded due to the astringent properties of the lactic acid.
You can also use buttermilk as a blemish spot treatment for those stubborn pimples that seem to take forever to go away.
Have stubborn marks?
Buttermilk lightens these spots as well as your overall complexion because it works as a lightening agent…because of what? Lactic acid & alpha hydroxy acids.
Not only that, but have you ever gotten a sunburn?
Who hasn't right, and they're the worst.
If you have buttermilk in hand, it can come to the rescue. Buttermilk provides relief from the harsh burning feeling on your skin, naturally. It works by cooling and soothing your skin from sunburns.
Looking to remove a tan? Buttermilks brightening properties can work to exfoliate your skin if you're in the mood for a brighter complexion after tanning.
Need to brighten your complexion? Buttermilk.
Need to hydrate? Buttermilk.
Need to get rid of spots? Buttermilk.
Need a firming agent? Buttermilk.
Long story short, buttermilk seems to target every single skin problem you might have. No wonder people through the ages were obsessed with it. Nothing like a natural product that has multi-uses and is truly an all-in-one skin-savor helping with so many skin issues naturally.
When I think about all of my skincare products that I use at the moment, each one either brightens or exfoliates or smoothes my skin tone, meaning I use 3 different products to achieve what buttermilk can do in one use.
Buttermilk does all the work of getting rid of dead skin cells, while rejuvenating and smoothing the complexion at the same time.
What are 3 Negatives Things About Buttermilk?
Not a Vegan Beauty Hack
Well one, yes it is an animal product so if you're 100% vegan in your lifestyle, buttermilk may not be your go-to beauty hack!
Dairy Product
If you can't tolerate the scent of dairy on your skin or face, buttermilk might not be the option for you.
Allergies-Lactose Intolerant.
If you are allergic to dairy products, buttermilk should not be used on the skin as it can cause adverse reactions.
Buttermilk Recipes for Your Skin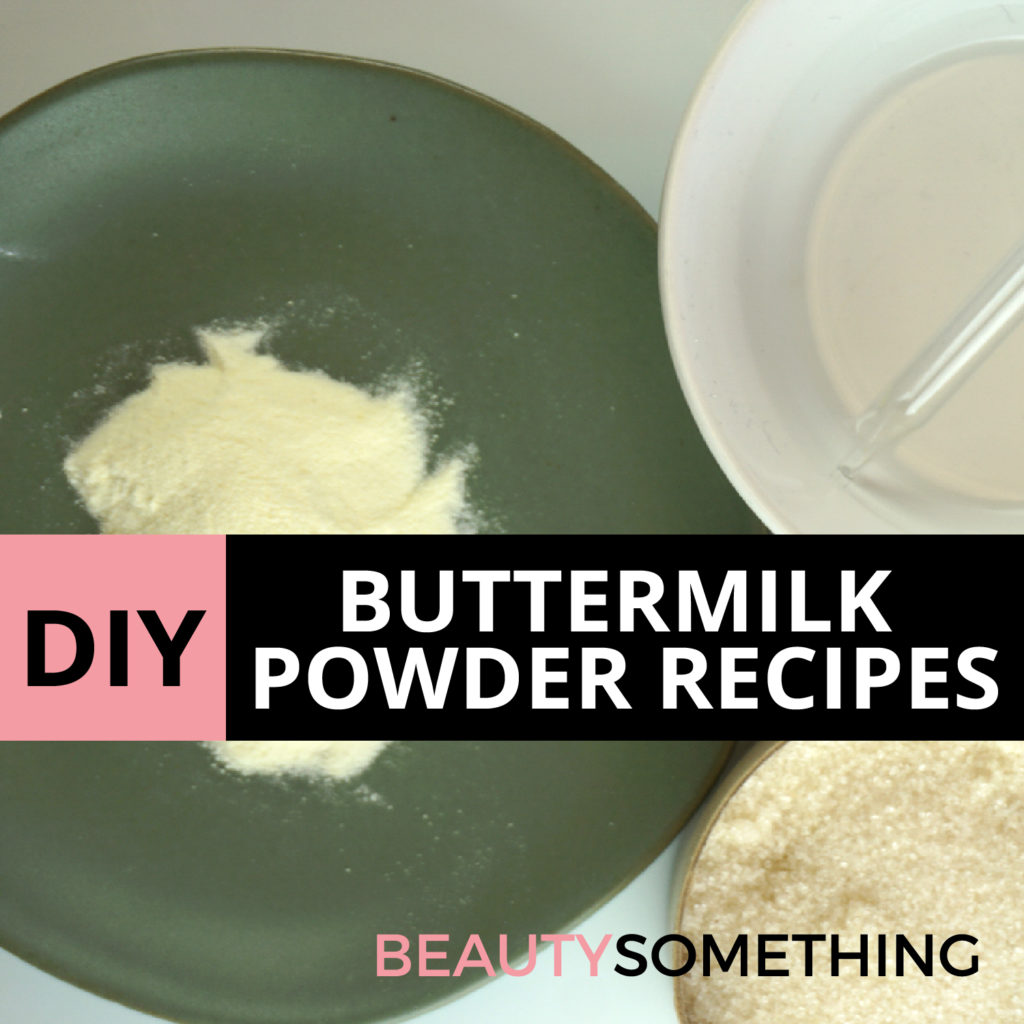 Due to buttermilks many fascinating skin benefits, incorporating it as a key ingredient in DIY recipes for different skin concerns is a beneficial way to take control of your skin naturally, while also having fun! Below are some effective recipes for all of your skincare needs using buttermilk.
Buttermilk Deep-Cleanse Recipe: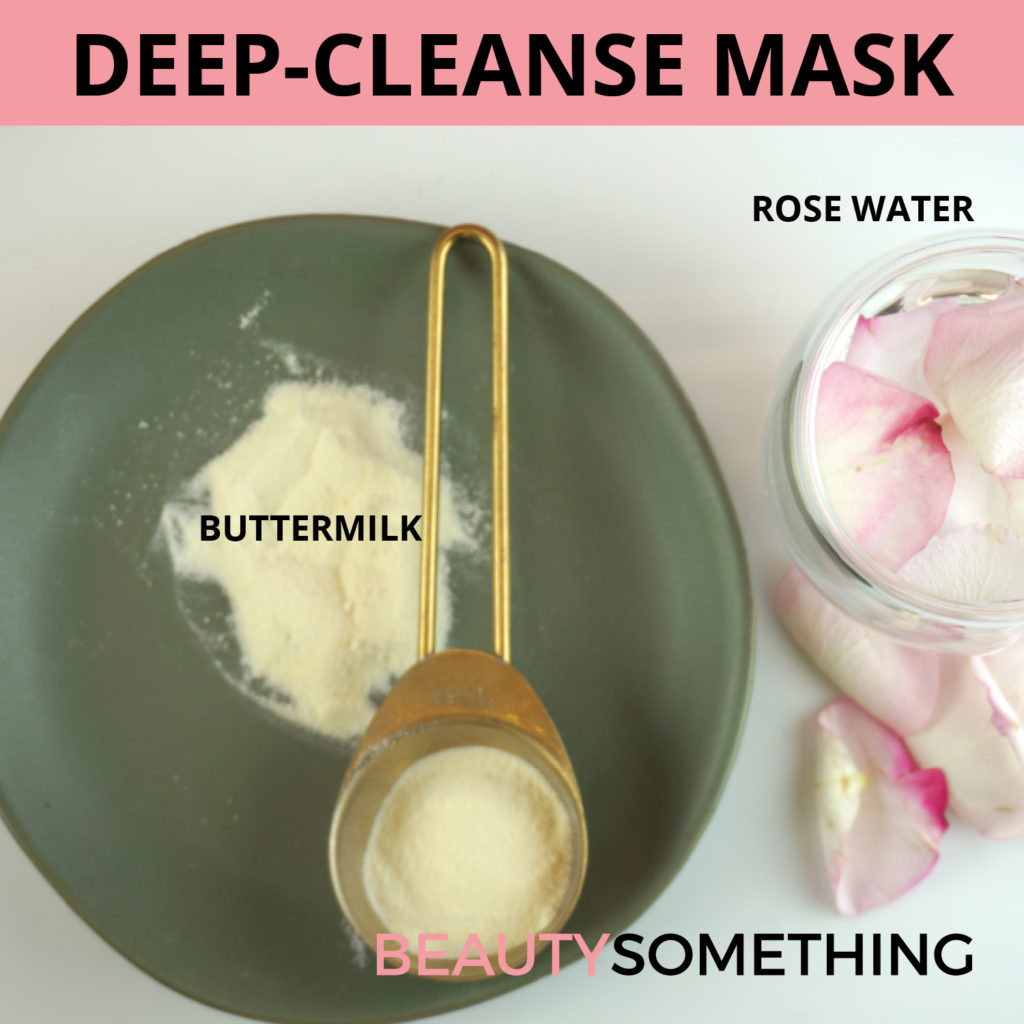 As mentioned earlier, buttermilk is an excellent deep cleanser for the skin due to it being able to get all the nasties out from your deepest pores. This recipe combined with rose water will not only smell amazing, but will deeply cleanse your skin for whenever you feel like the gunk is just stuff in there.
Ingredients:
1 TBSP Buttermilk
1 TSP Rose Water
Directions:
Mix buttermilk and rose water, apple to face, leave on for 5-10 minutes and wash off for a squeaky clean complexion.
Ingredients & Accessories Recommended for You
Buttermilk Recipe for Glowing Skin + Anti Aging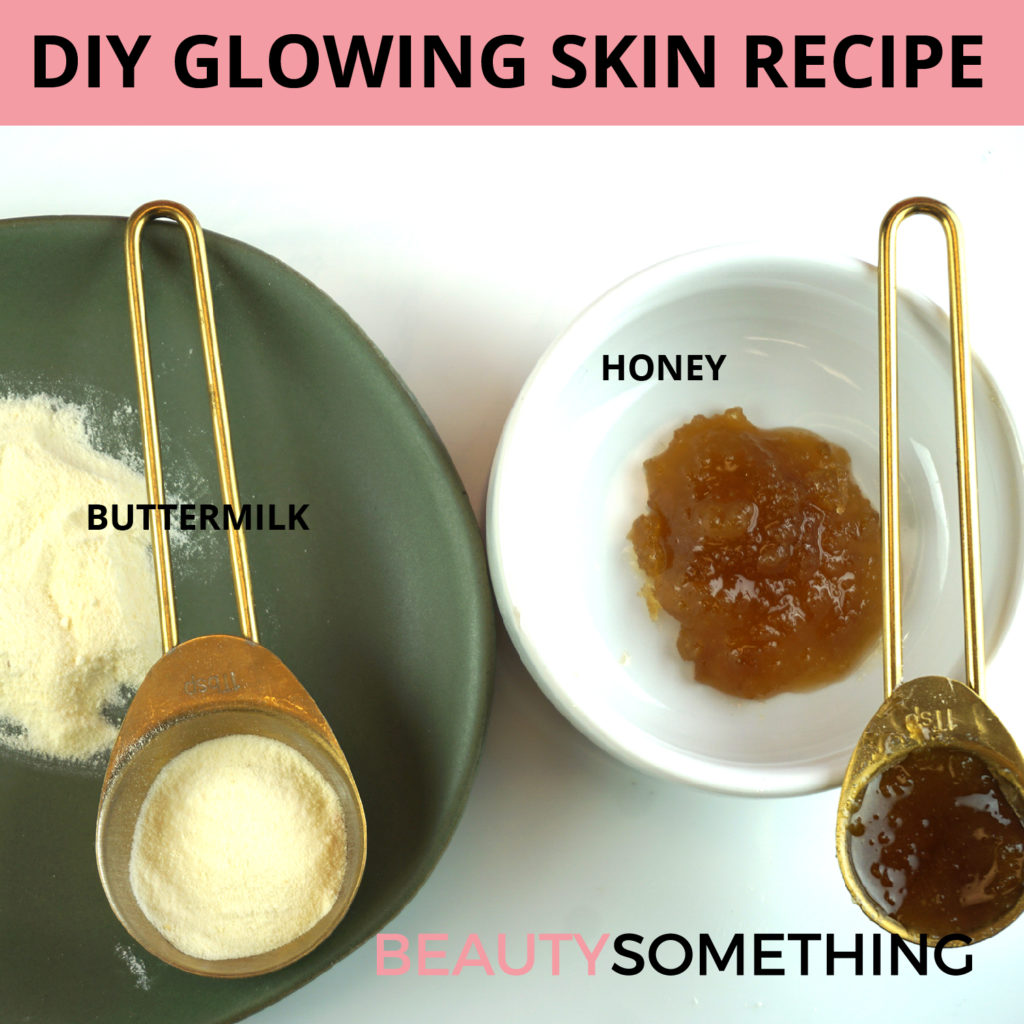 Buttermilks lactic acid rejuvenates the complexion for glowing skin, while honeys humectant properties help absorb and retain moisture to prevent wrinkles and fine lines.
Ingredients:
1 TSP Honey
1 TSP Buttermilk
Directions:
Mix buttermilk with honey, apple to the face. Leave on for 15-20 minutes and wash off. Enjoy healthy glowing skin.
Buttermilk Recipe for Dry + Sensitive Skin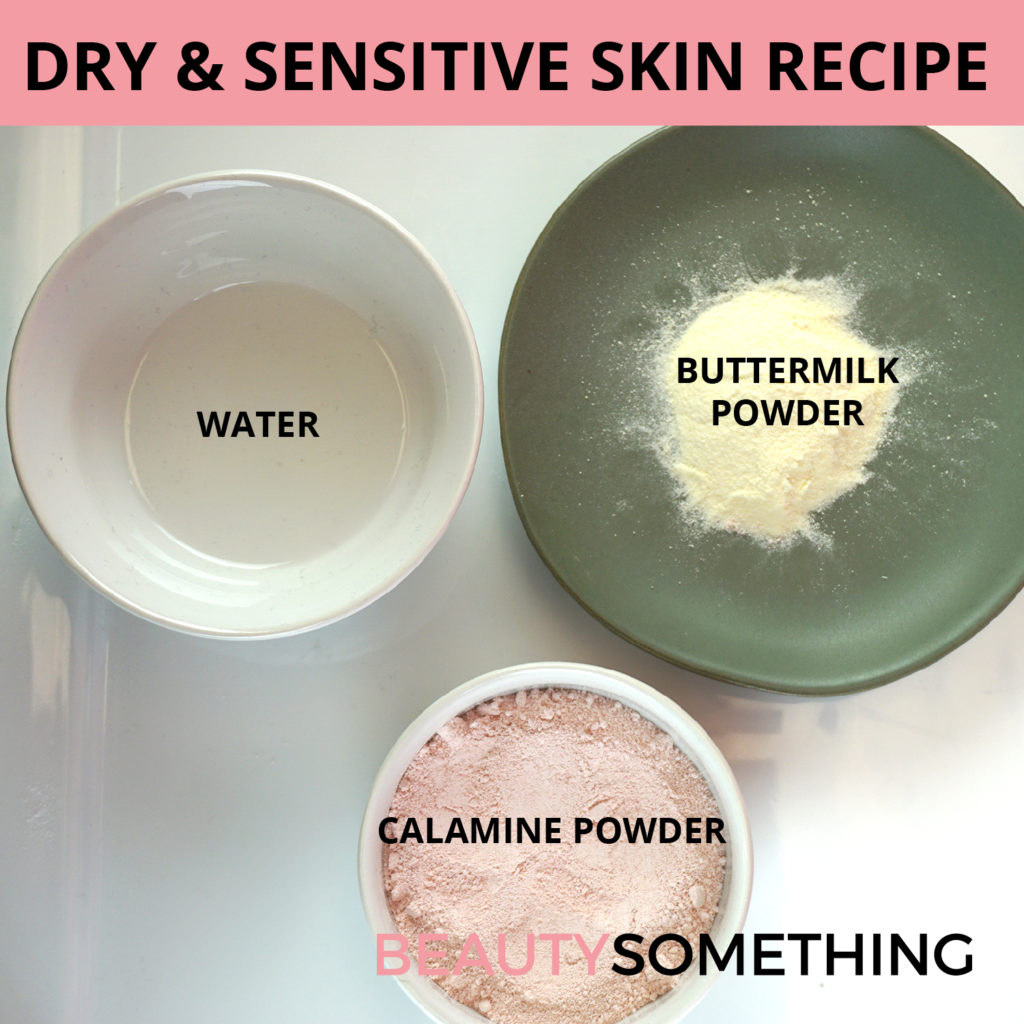 Buttermilk is gentle enough for sensitive skin and restore back hydration from dry skin, combined with Calamine it was sooth and calm irritated dry skin for the ultimate face masks in those cold winter months when skin is a little bit more dry and sensitive than usual.
Ingredients:
1 TBSP Calamine powder
1/2 TBSP buttermilk (Note: if using buttermilk powder instead of liquid, mix with water)
Mix Calamine powder with buttermilk, apply on your face. Leave on for 15-20 minutes. Wash off and enjoy hydrated, and calmed skin.
Buttermilk Recipe Dead Skin Cells Removing Scrub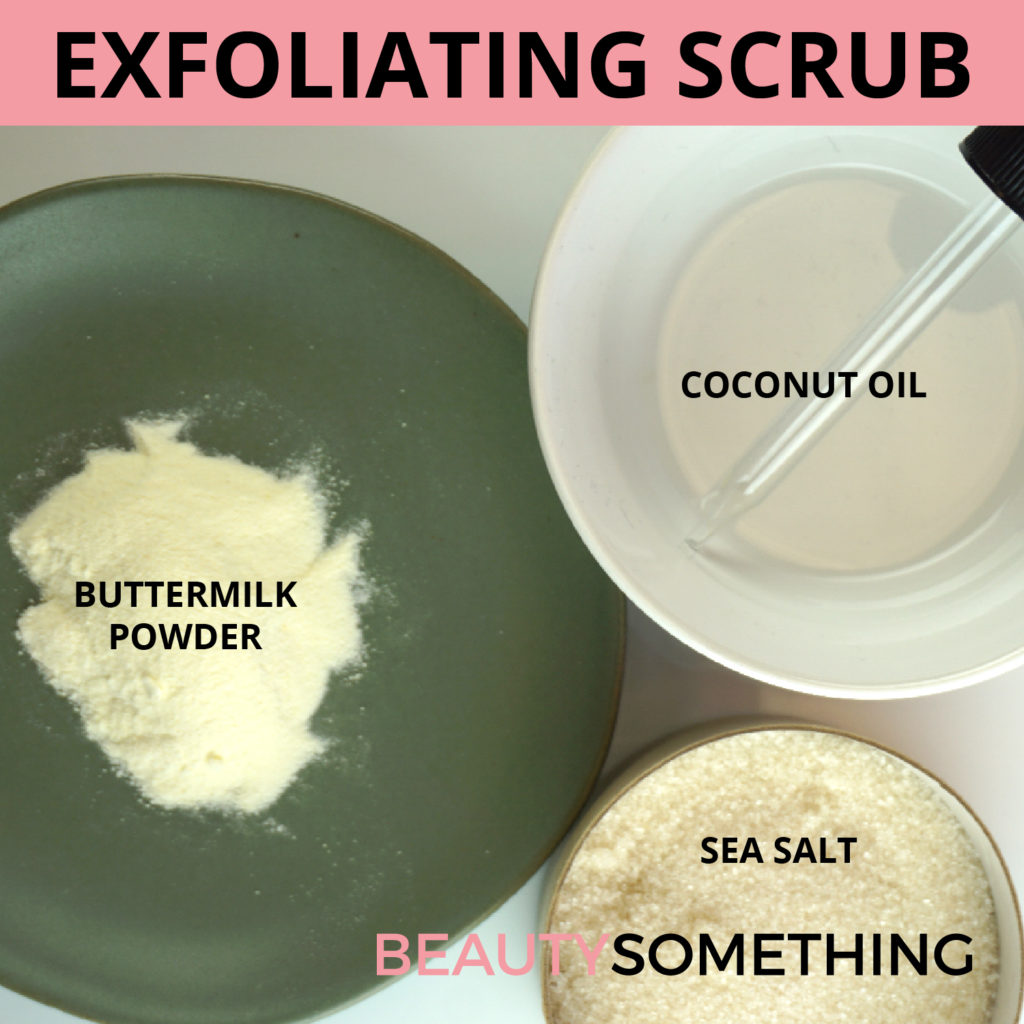 Buttermilks already naturally occurring lactic acid is a great exfoliant, but with the sprinkle of sea salts you will get double the exfoliation, and hydration with coconut oil for revived new skin that is hydrated and smooth.
Ingredients:
¼ Cup of Buttermilk
½ Cup Sea Salt
10 drops of coconut oil
Directions:
Buttermilks astringent properties already aid in firming, mixed with honey another astringent and oats for tightening effect, this is the perfect mask to really tighten your skin and have the appearance of firmer skin.
Mix in all ingredients, until you get a scrub like consistency. Begin to scrub your skin in the areas of concern, massaging in circular motions. After about 20 minutes rinse the scrub off and follow up with your favorite hydrating moisturizer.
Buttermilk Recipe Firming Face Mask
Ingredients:
2 TBSP oats/ oatmeal powder
3 TBSP buttermilk
1 TSP honey
Directions:
Mix all ingredients and apply to your skin in circular motions. Leave mask on for 15 min and then rinse with water.
Conclusion
Now that you know more about what it is and how to use Buttermilk in your skin care routines, be sure to share your newfound knowledge with your friends.
For more natural DIY skincare recipes and beneficial ingredients to use in skincare be sure to read our articles below. Feel free to experiment and mix and match your favorite ingredients to create your own personal treatments that work for you.
Please be sure to leave your comments and any DIY recipes you may have down below! We would Love to hear from you!
**This article is not intended to treat, diagnose, cure or prevent any disease.