Vecinos Market, Miami's latest online marketplace for locally curated goods, launched this week gift boxes curated by some of Miami's top influencers just in time for the holidays.
"It's the perfect way to support local shops and small businesses this season by giving friends, family, employees or clients gift baskets of amazing artisanal products made right in Miami," says Yvonne Chen Founder of Vecinos Market.
We couldn't wait to delve into the two beauty boxes that are now featured in the shop. Curated by two of Miami's most influential beauty and lifestyle experts, Erin Newberg and Emilie Sobel crafted the ultimate holiday gift sets.
Essentially Erin – A Beauty Editor's Picks to all things Local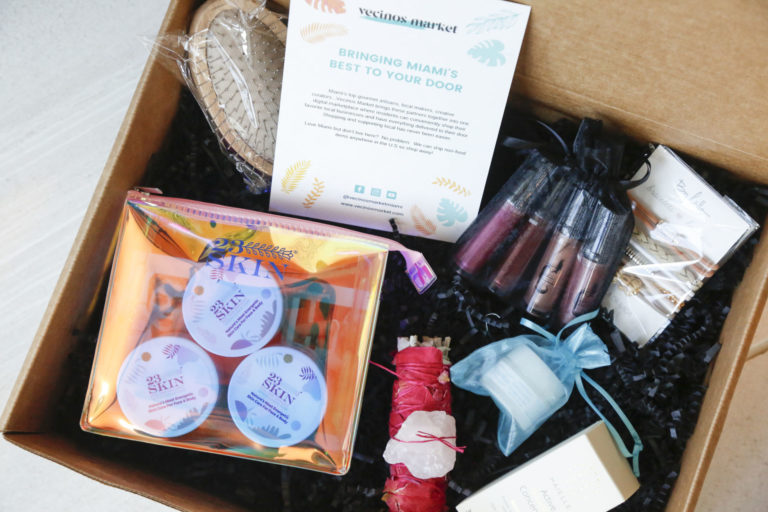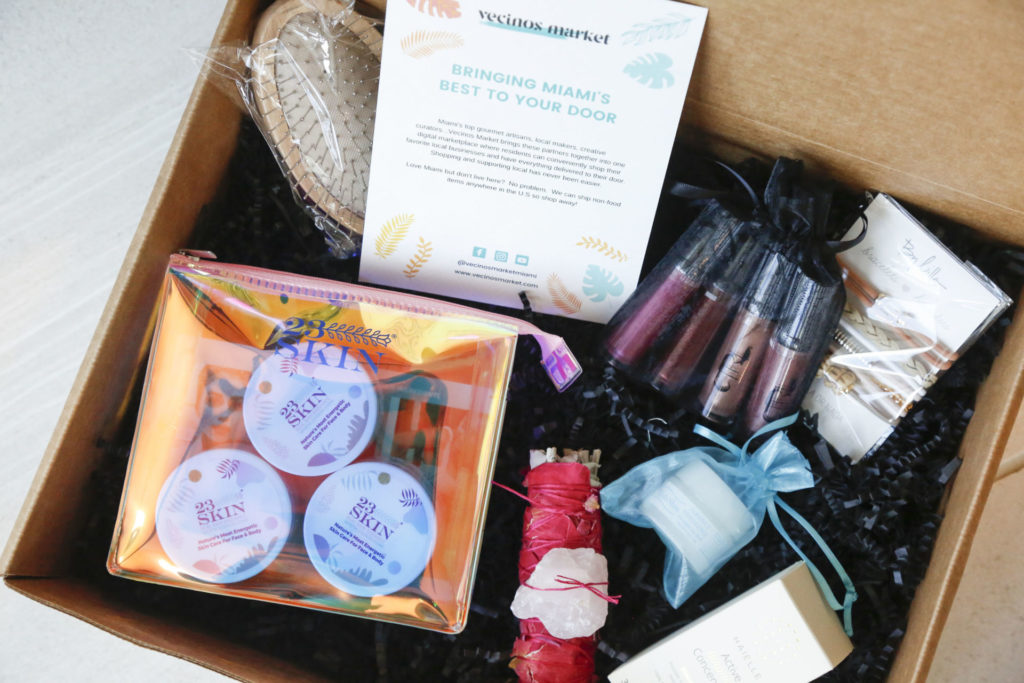 A one-stop-shop in a box for all of your beauty needs by Erin Michelle Newberg, Contributing Beauty Editor of Indulge & Lifestyle Guru. Box includes:
iLublends – The hairbrush of your dreams has just become a reality! This handheld apparatus detangles, is light on the hair and light while holding in your hand, too! Erin discovered this during a massage (facial work-out) on Calle 8 (eighth street) at a haven for your face called habits skin lab. The owner and aesthetician, Lola, strikes her clients hair with it.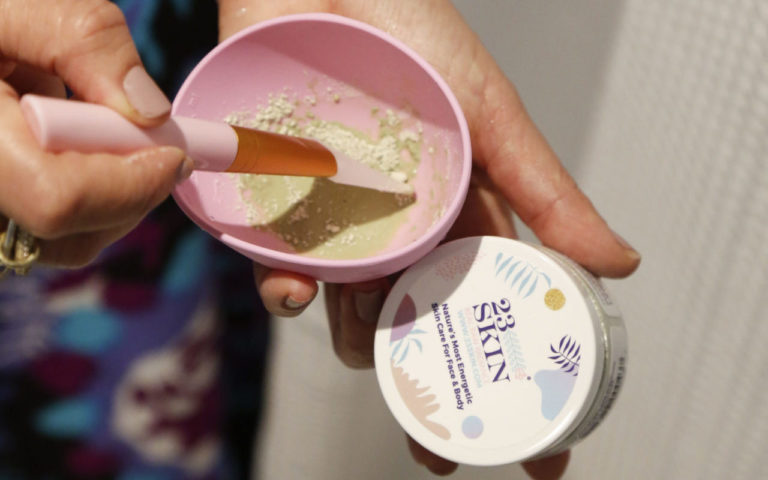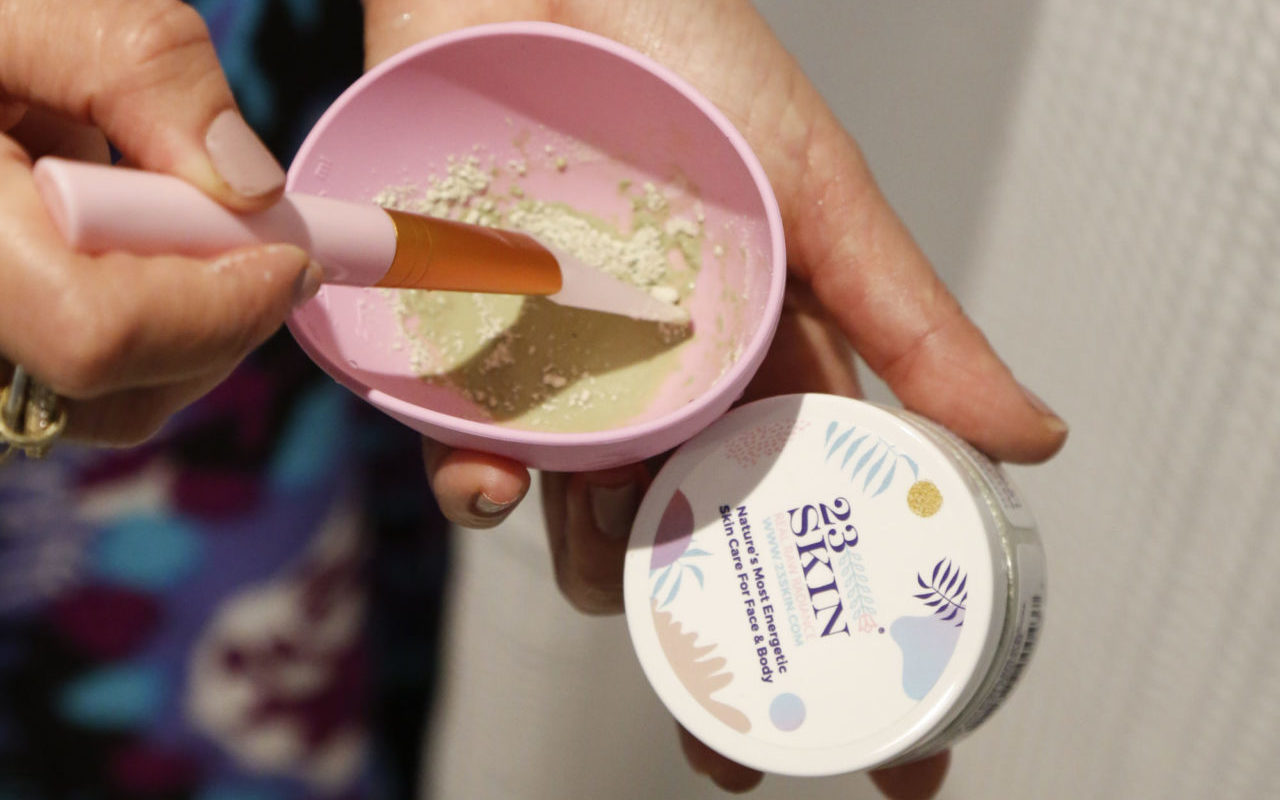 23SKIN – Are you a DIY kinda gal? Erin has always had a blast mixing products from this brand, which was founded by Shiri, second generation in the beauty biz. Shiri's mom founded Repechage, and considering Shiri has a lot to live up to; let's just say, she nailed it with this brand-new set of powders. All you do is pour 'em into the pink dish with a tiny amount of spring water, and voila. Erin also uses them in the bathtub, and on her body, too. Clean beauty is the method to the madness behind this trio, which includes the seaweed powder, matcha clay powder and pink milk clay mask. Blend the powder at your discretion.
Nintu Skin – A real-life oral savior, the Coconut Indulgence is Erin's ride-or-die. Hydrating dehydrated lips (especially after filler, it helps), apply generously and close your eyes and sleep. In the morning, expect a thank you note. Oh, and this line is brand new to the skincare universe. You are welcome….

HAIELLE – Time for your hair and body to shine as a result of this golden bottle of magic. Yep, it is just that. Recommended for more thick hair, apply while wet and go. Also, perfect to tame your frizz, the recipe to the success of the entire line – which by the way Erin is obsessed with, is a result of the many pressed nuts that are sourced from around the world. This oil is also wondrous for your body and face as well.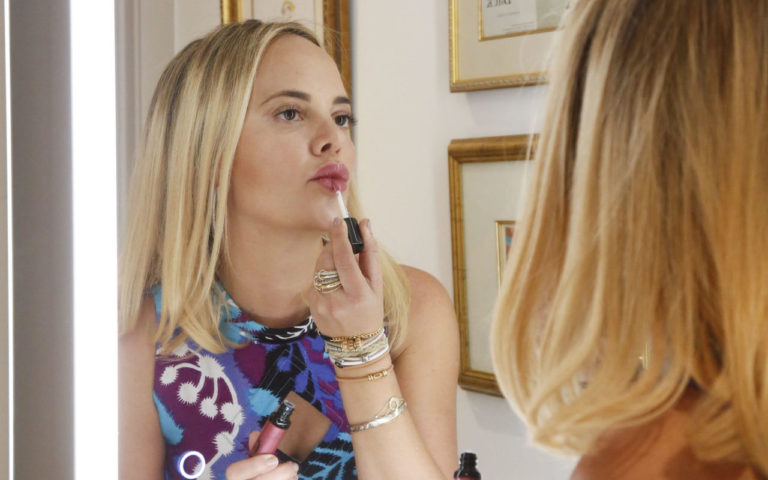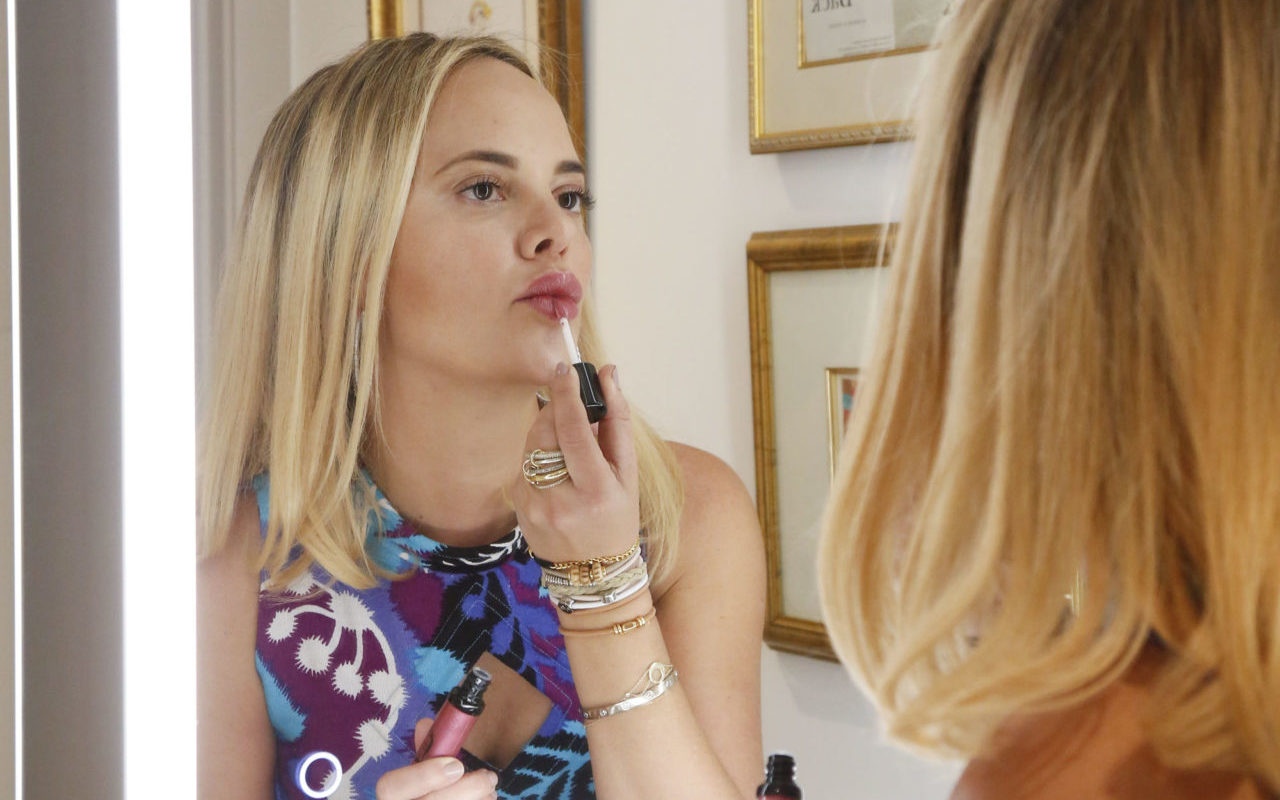 CTRL – This set of lip glosses is better than any fancy, shmancy item you find at a department store counter. Non-sticky, and elegantly colored for any occasion.

Anahata Sage, by Abatey – It is 2020. Whether you like sage, or not – we all certainly need it now more than ever. When Erin discovered this rose wrapped, quartz encrusted gem, she knew it was a must-have. Light her up, say a prayer and let her burn. Then, go check out Anahata's website and book a yoga retreat with them! See you there…

By Lilla – You know when you take a photo with friends and you realize that so many of you have an ugly brown tie around your wrist? That was then – this is now. By Lila has revolutionized the arm candy game and certainly will help facilitate the chicest ponytail, or bun that you ever imagined. The color selection Erin selected is neutral and she loved how they looked with her jewels.
The Biostation– The top destination in South Florida for your health and wellness needs that is guaranteed to satisfy your desires, is welcoming you in for a complimentary b12 shot to boost your energy and immune system. Swing by their Midtown location and we guarantee it will be your first, but not your last time there!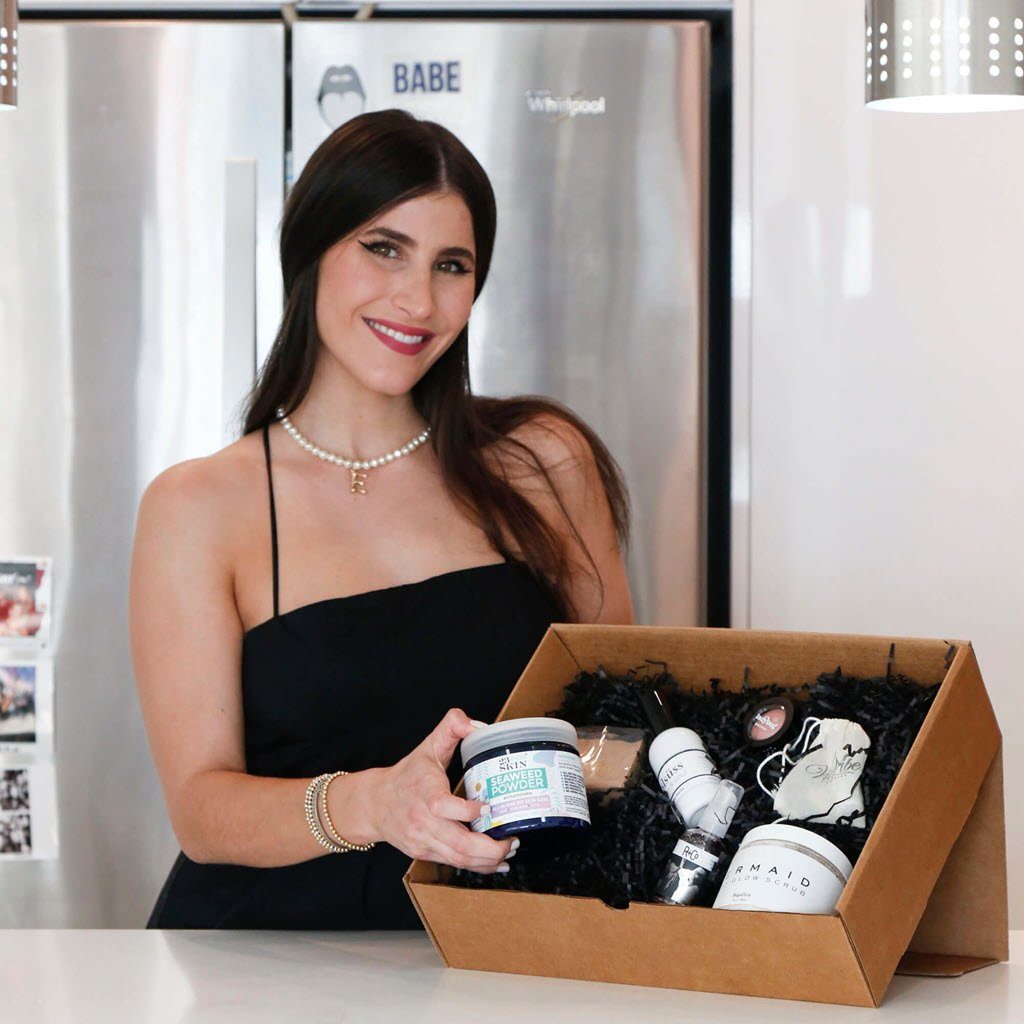 Emilie Sobel is a Beauty, Fashion and Lifestyle Influencer as well as a Creative Brand Manager based in Miami Beach! Emilie focuses on affordable beauty that not only looks good, but actually works for your skin.
The Beauty & the Beach Box includes all of Emilie's must have beauty products to keep her looking great while on the go.  Box includes:
23 Skin Seaweed Powder – one of Emilie's all time favorite masks for your face and body! Leaves your skin looking so healthy and feeling smooth! She uses this twice a month, and a little goes a long way!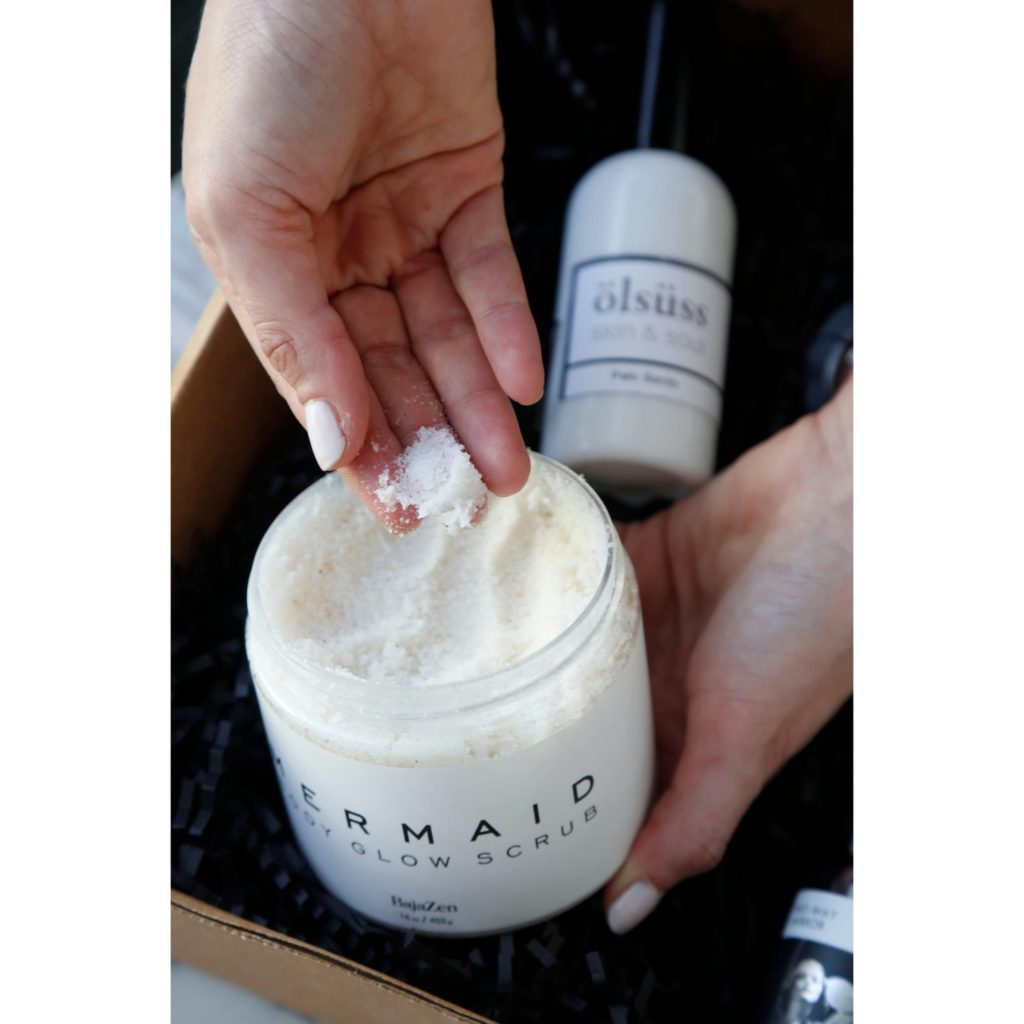 Mermaid Body Glow Scrub – the perfect scrub to make your skin super smooth. Emilie's favorite thing to use before she puts on a fake tan, it exfoliates skin and preps it for application! 
ölsüss soap bar – Nowadays Emilie loves having a chic and effective bar of soap in her bathroom for herself and for her guests.
Lady Bug Mineral Highlighter / Eyeshadow – This little powder is great for a light eyeshadow and highlight. Double the product in one, so a win-win.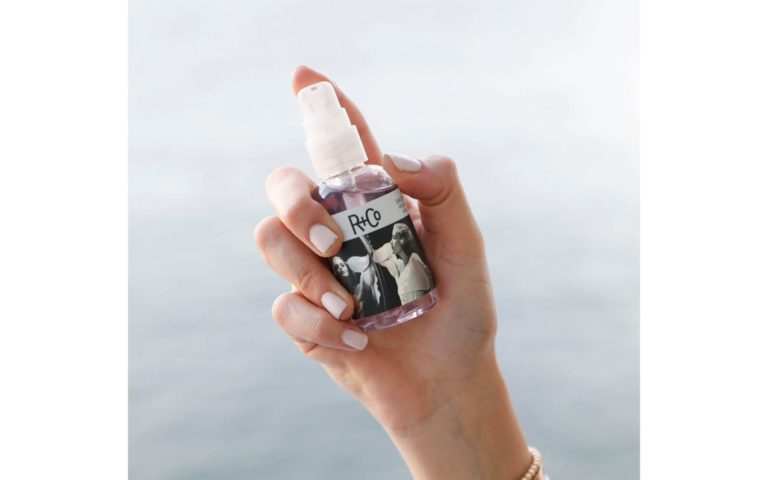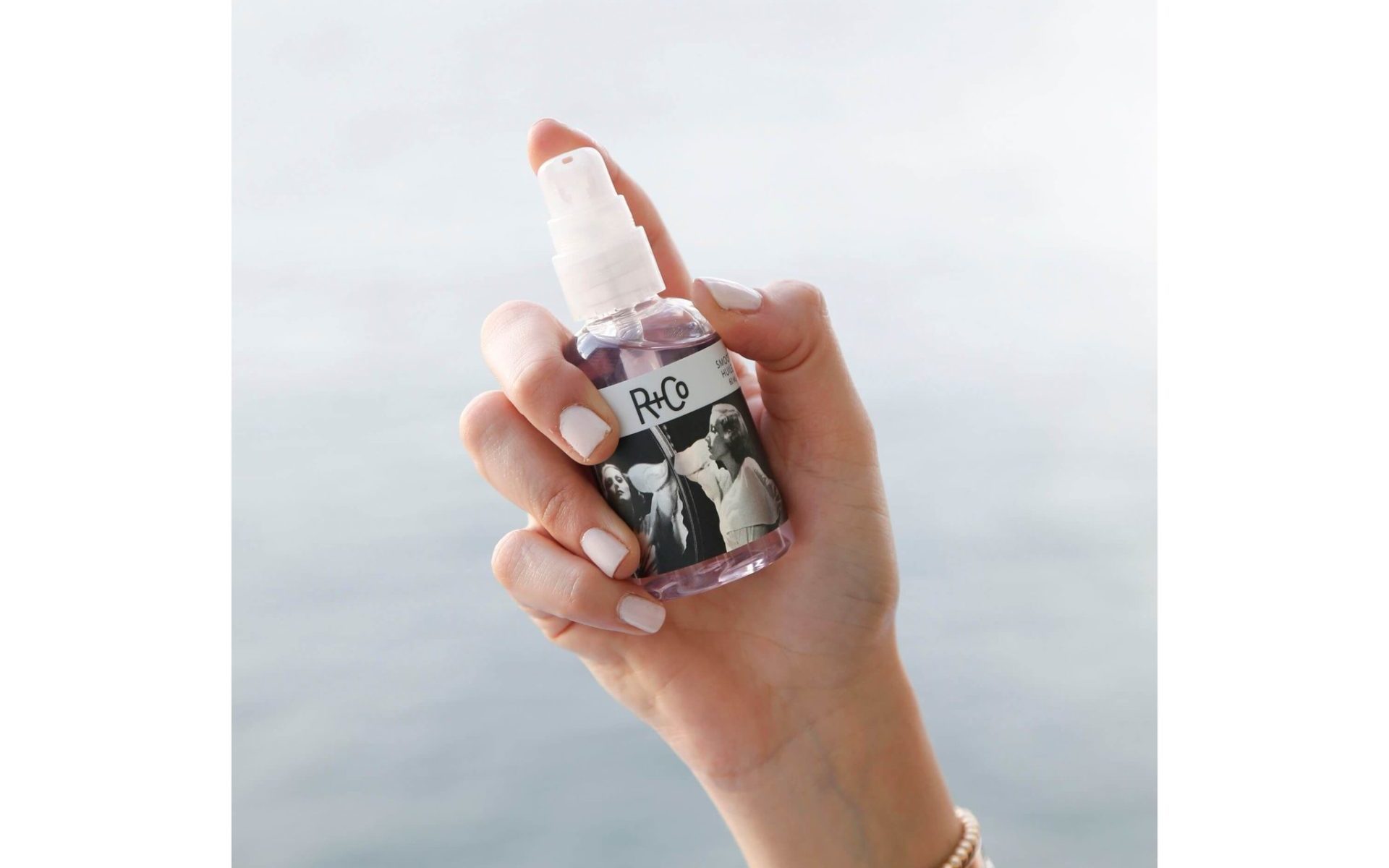 R&Co Smoothing Oil – The best stuff ever for those stubborn fly away hairs. Emilie puts this on after she has styled her hair to help it survive the Florida humidity! 
Vita Vibe Organics Lip Treatment – Emilie keeps a lip treatment in every single bag in case of emergency and this is her absolute favorite!
ölsüss Palo Santo Spray – Emilie loves to spray this on her sheets every night before bed for a calming, relaxing vibe and the best scent, ever.
Find these boxes and more at vecinosmarket.com