Miami-Based Beauty Editor Erin Newberg is super picky and that's why she is a trusted local authority on nearly everything. I had been following Erin's blog, MsErinsita and IG adventure's long before I met her. If you live in Miami, and want to know what's in, Erin is your go-to resource.
She is the real deal; a journalist, writer, editor and philanthropist. Plus she is loads of fun. Her infectious laugh and overwhelming warmth immediately makes you want to just be in her presence. She is currently the Beauty Editor of Indulge Magazine, and is the Editor-in-Chief of Golden Beach Living and Cocoplum Magazines. She also is a contributor for Vogue.com and sits on the board of No More Tears Foundation. Recently she has been serving up meals and groceries to local healthcare workers and families in need during the recent COVID-19 pandemic.
I couldn't wait to interview her on her personal beauty habits; afterall she has access to the best beauty from around the world. I also couldn't wait to hear more about her local favorite beauty spots as well as the beauty trends she just wishes would go away. Read the full interview below: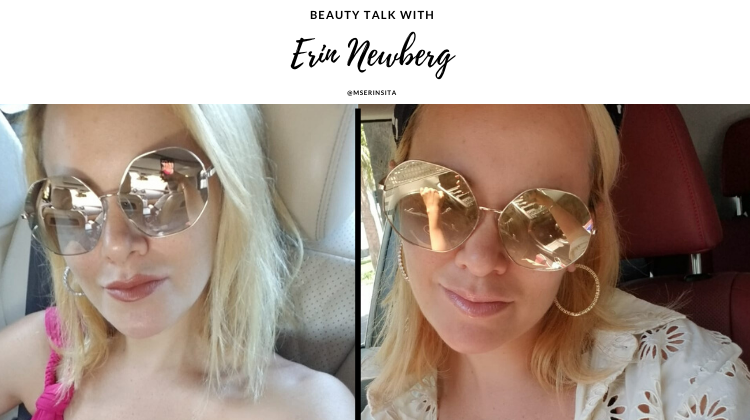 1. Growing up, what were some of your first beauty memories? 
When I was like six years old, my mom had a gallery in the Bal Harbour Shops. There was a legendary skincare guru who also had a skincare spa there called Georgette Klinger.  My mom would send me on weekends for the treatment!
I would sit and steam in the chamomile tea to open my pores and even as a young girl, it transported me to a place similar to heaven. Their white robes, the mauve décor. I will never forget the drying lotion which I used as a teen to dry up the minimal acne I never really had. It was what defined a beauty experience and to this day, nothing compares.
2. Who taught you about beauty or was it something you discovered on your own?
I became a beauty editor by default at Selecta Magazine; but, I suppose it was my mother who subliminally got me hooked. She always loved the best of the best, dragging me to spa's like Canyon Ranch in Arizona in my teens.
Her bathroom was my playground and still is (even though she steals my La Prairie products), but over the past two years, I would say that my passion for beauty and skincare has become much more robust. I have learned about a universe that has endless components and is ever growing due to constant advancements in the industry!
3. Who is your favorite celebrity that you look up to when it comes to skincare + beauty goals?
I do not follow celebrities, and people come to me for skincare tips all of the time. But, I will say, I do swear by a celebrity facialist named Shareese Logan who is based in South Florida.
She has worked on the faces of Shakira and endless athletes. She has been giving me facials over the past twelve years.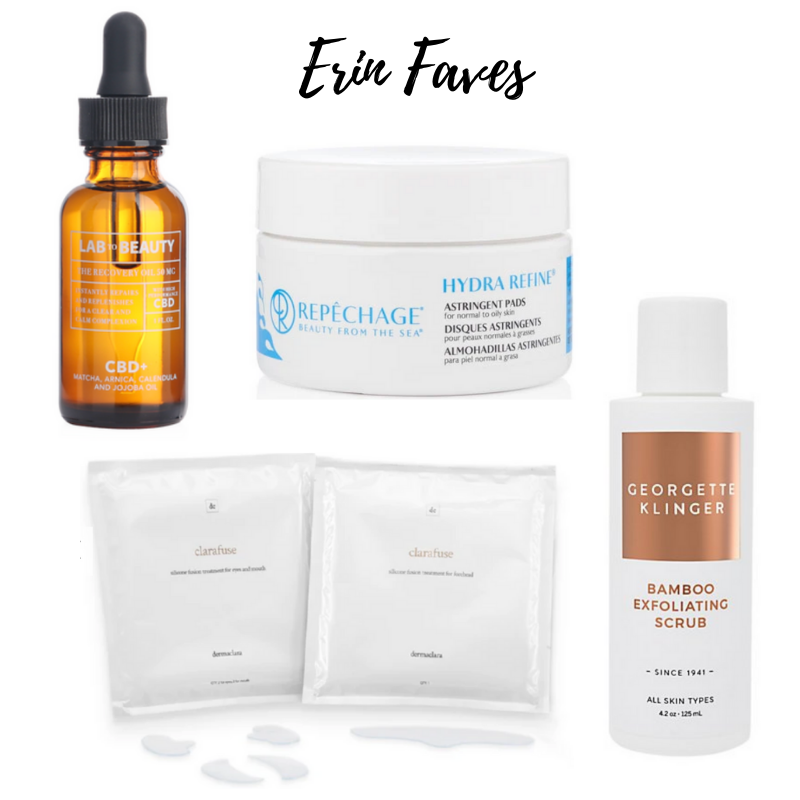 4. What are your Beauty-rituals? 
I believe in a fair mix of products but the regiment that seems to work for me includes a morning and evening wash, a toner, a face oil, mixed masks, lip scrub and oils.
Here are my recommendations. I also believe in vitamins, like nac-2, oregano capsules and probiotics thanks to Dr. Trattner.
Rather than A.M. v.s. P.M., here is how I roll:
Wash with: Skin Laundry gel wash, SkinCeuticals, Venn Moisture Balance Face Cleanser is milky and delicious, and for a scrub which I use once per week – I swear by Georgette Klinger Bamboo Exfoliating Scrub. It is heaven.
Tone with: Repechage Astringent Pads. They are THE BEST. They remove the dirt particles. I do this morning and evening.
Oils: I swear by Lab to Beauty's Recovery Oil, it is CBD based and small batch, female owned and anti-inflammatory. I switch it up with Costa Brazil's face oil. I use these day and evening, around 3x per week.
Day Sun Block: I use Tula on my face, it is probiotic based, smooth and I use La Prairie, too!
Masks: Sisley's Black Rose Cream Mask is wondrous and plant based, as is Dr. Sturm's mask. I sleep with both products. I also use the Dermaclara Silicone Patches on my forehead. It is an adhesive which tightens!
5. When traveling, what's a must-have product in your carry-on?
Oh wow – the Repechage Eye Rescue Pads and the Algo Mist Seaweed Hydrating Spray is the long haul secret to success! Goop detox powder called G.Tox. Hello heavenly packets! Babor's glow ampoule is also YAS!
I also travel with Sana Jardin which is made in Morocco and has a give back element – it's as good as it gets. I love the Discovery Set especially to travel with because it allows for switching up the scents based upon your mood and one is better than the next. It also allows you to choose your favorite fragrance via sampling them all!
6. Best products under $40?
The lip scrub by Cuerpa is outstanding. As is the Dermaclara collagen lip booster. I can not live without my Bianca de la Garza In Glo We Trust  Lip Balm! The CTRL lip glosses are also my ride-or-die.
7. How do you pamper yourself?
I pamper with my monthly Shareese Logan facials. Her deep cleaning is where it is at!
I also think sleep is necessary, so my Charlotte's Web Sleep Gummies, yes please! I also cannot live without by Body Roll Studio for lymphatic treatments in Sunset Harbour and Dr. Trattner for her gemstone facials which revolutionized my existence. I also do massages by Gabe Baum who comes to the home. His services are outstanding.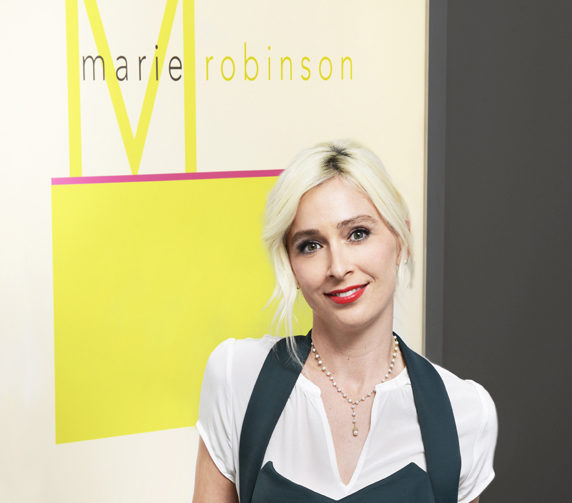 8. What's your favorite go-to LOCAL spots to get a treatment? 
So, for a great quick mani-pedi that is efficient and lasts, Jade Nails is my girl. I also just tried Marie Robinson at the Marie Robinson Salon in Aventura. Famous for her color, I look forward to sharing my journey soon at Miami Herald.
For a more elegant journey, the Setai's Valmont Spa is a wondrous secret. And, to steam, I love the co-ed hammam at the Standard. Their services across the board is stupendous.
For great natural products, I love this facial shop in Wynwood called Sana Skin. The selection is beyond well curated.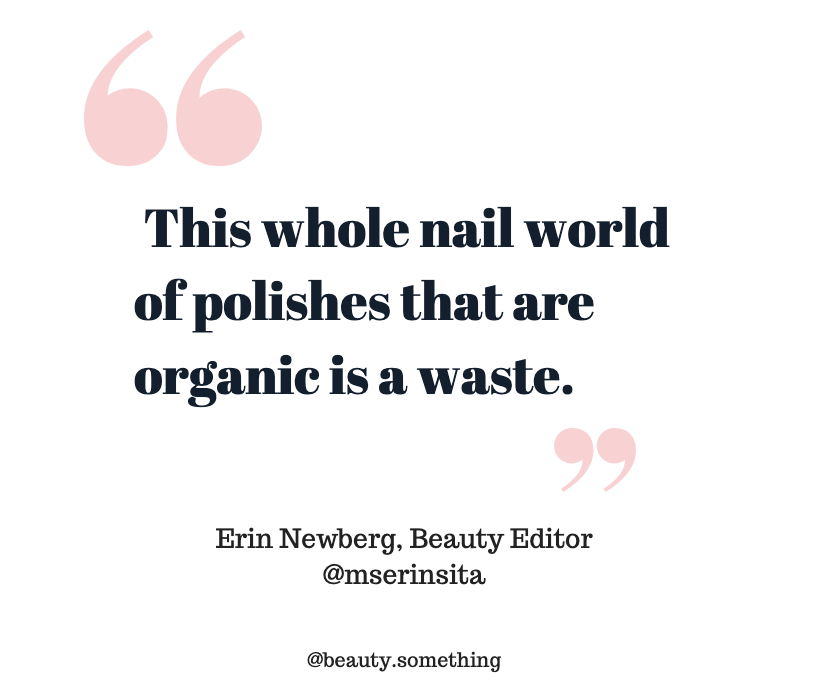 9. Favorite/least favorite beauty trends at the moment?
This whole nail world of polishes that are organic is a waste. It generally chips, and there is one brand I tried from Hawaii which was a headache to remove. I mean worse than gel!
10. What is your favorite natural ingredient in skincare?
CBD as an agent which truly works, and if you are interested in learning more, check out a website I discovered around a year ago. Fleur Marche was founded by two goop executives who left to source the best items across the globe. You can thank me later. The PMS products, the skin, the bath, the oral! Enjoy!
Follow Erin @mserinsita