Just in time for Valentine's Day, we wanted to share with you beauty rituals from our favorite LA couple – Jan Milewicz and Io Bottoms. Their rituals come from a wonderful  heritage of health and beauty.
Jan is an actor and photographer raised by parents in the fashion and beauty industry in NY.
Io is an actress, artist and yoga teacher raised by parents in the film industry and yoga community in LA. 
I've known Jan since he was born as our families were best of friends and consequently we grew up much like siblings do. Doing this interview really brought back lots of fond childhood memories for me.
I first met Io at my wedding – she showed up in a vintage yellow midi dress and looked ever so glamorous. I was instantly enamored with her grace and charm. I am so happy to call them both my dear friends.
I hope you enjoy this fun "He Said, She Said" style beauty interview and learn how when couples beauty together romance happens!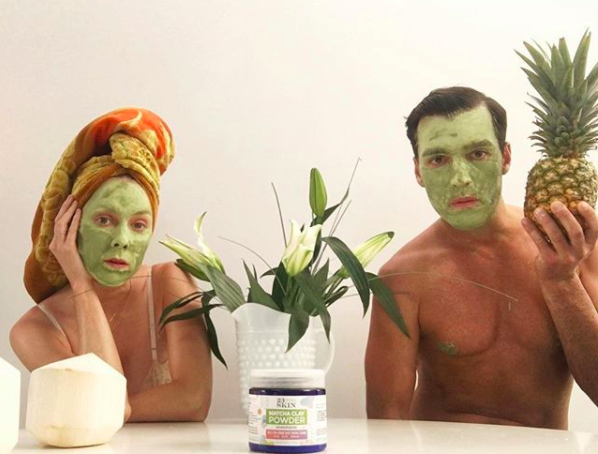 1. Growing up, what were some of your first beauty memories?
Io:  I remember my mom, a yoga teacher, always looking freshly showered. Her hair pulled back in a chignon and the hint of sandalwood.
She never wore a lot of makeup. When she did apply a lipstick or blush though, I remember this face she would make, lips pursed and cheeks drawn in.
When my sister and I would play dress up, we would imitate her face. Today, it's funny when Jan watches me put on makeup he says "O there's that face!"
Jan: Sitting on my mom's bed, dressed in my catholic school boy uniform and my mom in her bathroom putting on makeup before she left for work, as the Beauty Director at Glamour Magazine.
Then we would get in the elevator and I remember the overwhelming scent of perfumes and I didn't like it. I think that's why I'm drawn to natural scents now.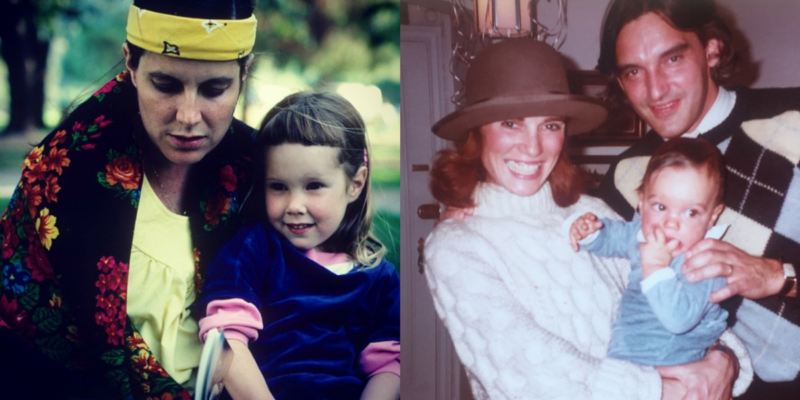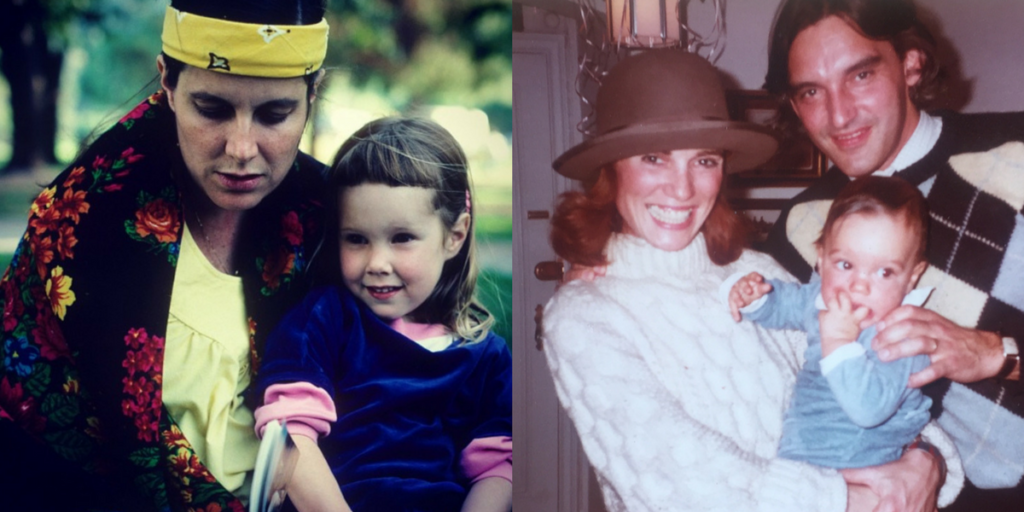 2. Who taught you about beauty or was it something you discovered on your own?
Io: Early on, I looked up to my mom and teachers and how they put themselves together. I'd come home from school, take off my uniform, undo my two french braids and raid my mom's closet.
I'd dress up like my teacher, pull my hair into a fluffy top knot, put on lipstick and heels and then do my homework as if I was my teacher grading papers or teaching a lesson.
I was also obsessed with of Anna of Green Gables at the time. In 1992, I bought my first issue of Vogue Magazine at the grocery store. The cover clad with every super model at the time dressed in white shirts & jeans.
I was extremely inspired by Ralph Lauren ads, the colors of Versace and Steve Meisel / Grace Coddington layouts. I was making mood boards for life at age 10.
My sister and I would round up the kids in the neighborhood and put on fashion shows with programs and  impromptu runways. Final touches consisted of taking rose petals and rubbing them on our cheeks. Ahhh those were the days!
Jan: Beauty, Ahhh the moment I looked in a mirror, you know. Haha jk. I was raised around a lot of women. My mom, my cousins, Shiri who is like a sister, they all have influenced a lot of men & women.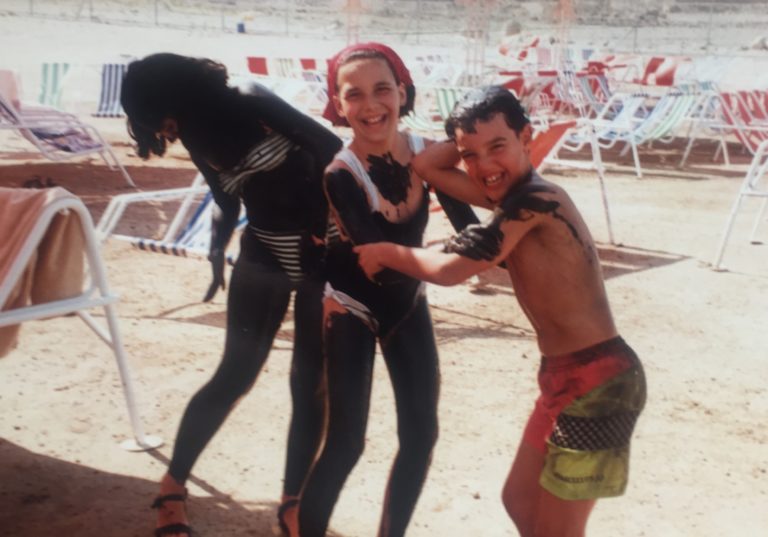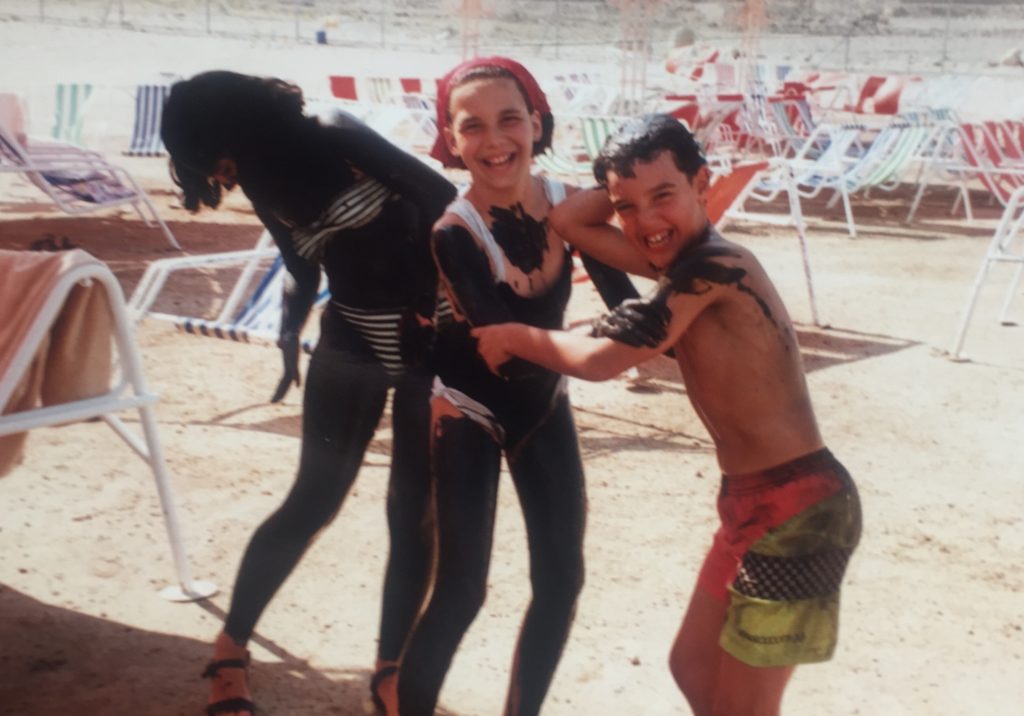 Io:…And then Jan and I found each other and document our life like we're in a photo shoot 😉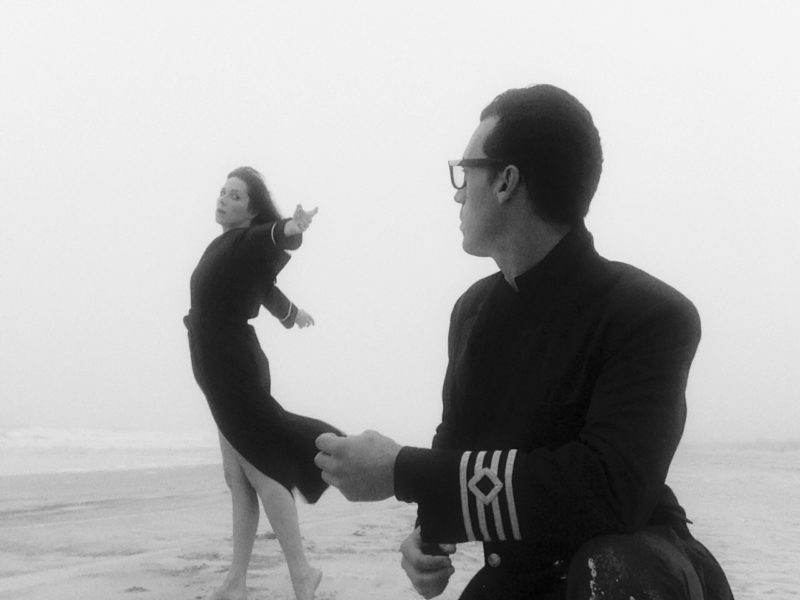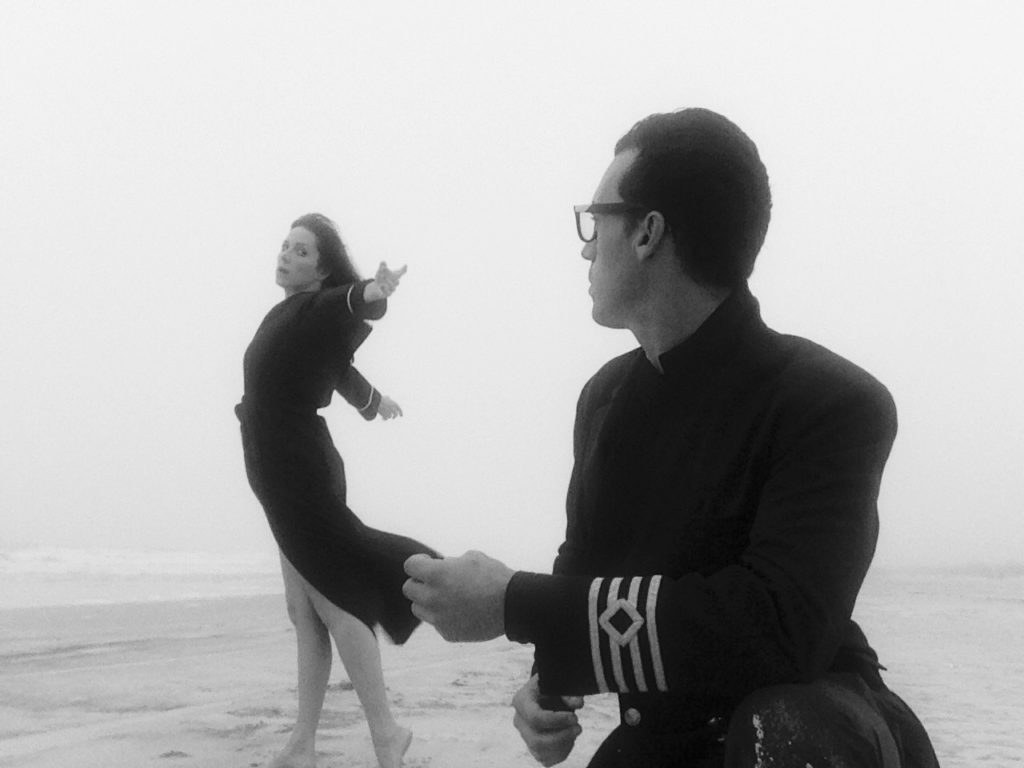 3. Who is your favorite celebrity beauty look?
Io: I've always loved Jennifer Connelly's vibe, ever since Labyrinth. I'm also inspired by classic beauties like Anna Karina, Jane Birkin, Charolette Rampling & Greta Garbo.
Jan: Zack and Kelly from Saved by the Bell. Currently, I appreciate the Peaky Blinders style.
4. What are your Beauty-rituals?
AM.
Io: I wake up around 7 AM  & drink a glass of lemon water. Sometimes I'll oil pull with olive oil as I'm picking up emails.
I then put Eve Lom's Cleanser all over my face and neck and use Jade Roller for 5 minutes which boosts circulation. I'm in love with the Eve Lom Cleanser so much that I'll keep it on longer if I don't have a place go.
I also try to dry brush before a eucalyptus steam shower, which always gets me energized for the day. I love Khiel's Coriander Shower Body Cleanser.
On my face I use Thayer's Rose Witch Hazel Toner, Ole Henriksen Truth Vitamin C Serum or Epicuren Moisture Surge, Ole Henriksen Sheer Transformation Moisturizer & Dr. Hauschka Tinted Day Cream.
On the body, I use [easyazon_link identifier="B015ORMEP2″ locale="US" nw="y" nf="y" tag="bsomethingusa-20″ cloak="y"]Palmers Coconut Body Lotion[/easyazon_link] or my favorite Pratima Pitta Balancing oil. For a day in the sun, Sun Bum 30 SPF & Maui Babe.
Jan: I wake up earlier than Io and use her products. I also love a good ice pack.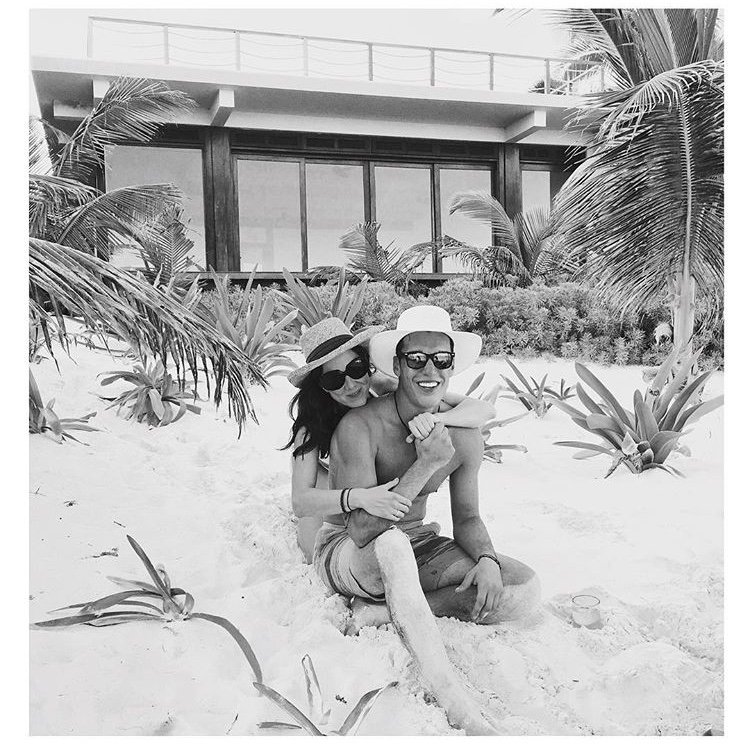 PM.
Io: If it's been a day of auditions and makeup, I use Eve Lom cleanser again or Ole Henriksen Vitamin C Cleanser and then take a warm muslin cloth across the face and wipe it all away.
Ole Henriksen Night Serum or Khiel's Midnight Repair and then Repechage Vita Cura Triple Firming Cream on the decollectage.
Jan: Repechage Eye Cream.
5. When traveling, what's a must-have products in your carry-on?
Io: [easyazon_link identifier="B0002JHGYC" locale="US" nw="y" nf="y" tag="bsomethingusa-20″]Heritage Store Rosewater Spray[/easyazon_link], EO french lavender hand wipes, Pratima Anti-stress oil and a silk eyebag made by my mom @shoshayoga.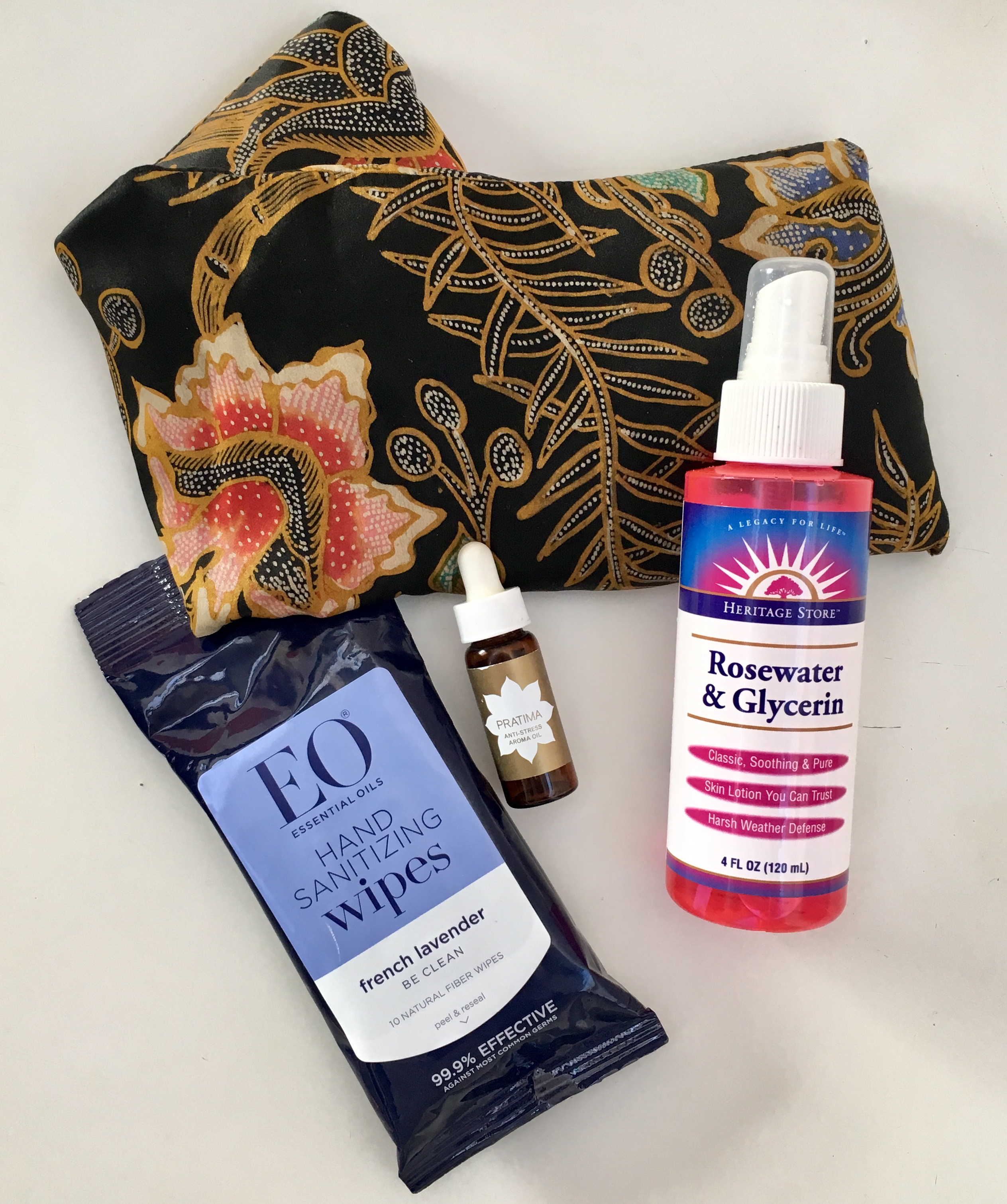 Jan: [easyazon_link identifier="B0043XCEX6″ locale="US" nw="y" nf="y" tag="bsomethingusa-20″]Flight Spray[/easyazon_link] and Dr. Hauska tinted Day Cream.
Io: Oo that's where my Hauska has gone 😉
6. What does self-care look like for you?
Io: Hydration. Circulation. Yoga Inversions. Vitamin D. Vitamin Sea. Sleep. Feeling at home in my body. A Smile!
Jan: What my skin feels like in a face mask, a good haircut, and dental floss.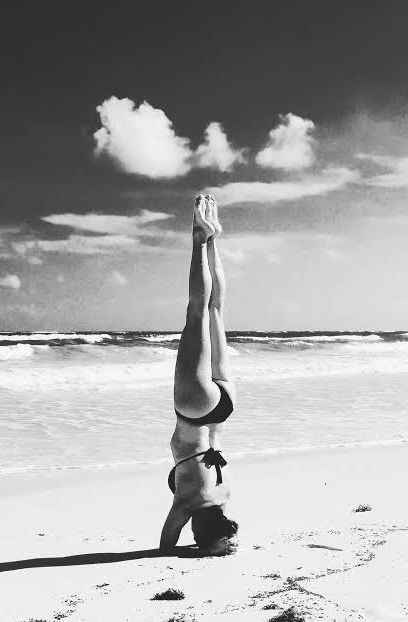 7. How do you pamper yourself?
Io: A foot massage & pedicure with Essie's 'Geranium'.
Jan: A Repechage Face Mask on.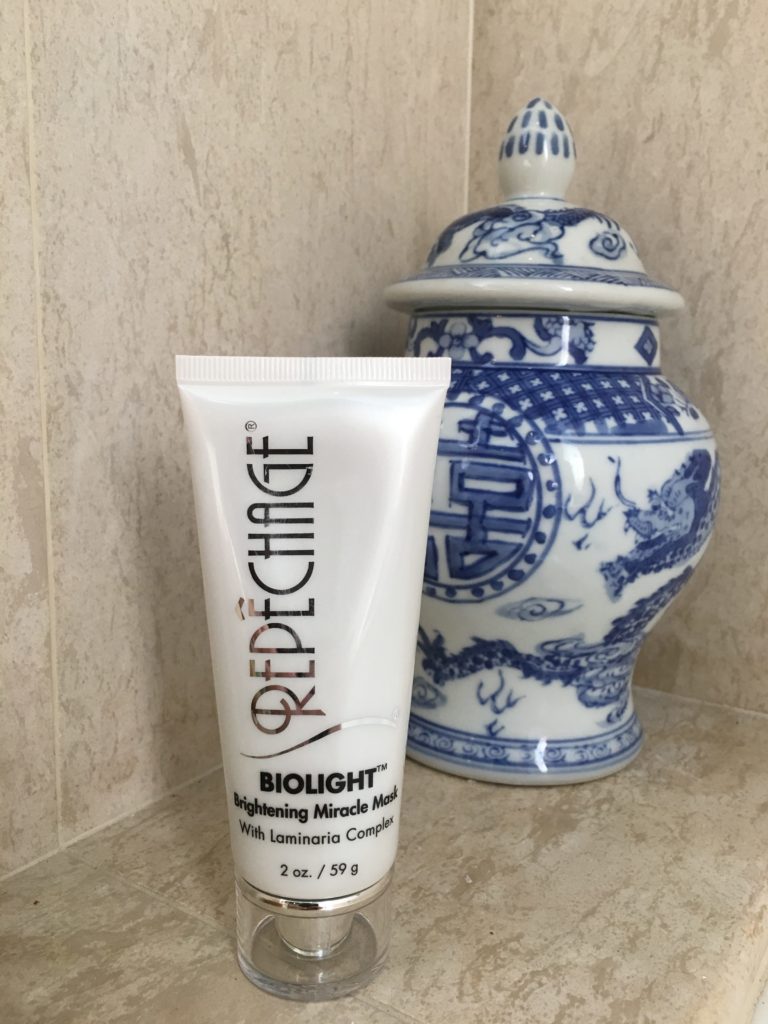 8. What's your favorite go-to LOCAL spots to get a treatment? AND what treatment/s do you get?
Io: I love The Beverly Hot Springs Spa in LA. After soaking in the Mineral waters & an awesome body scrub. I feel brand new!
If you're in Los Angeles check out Renee Ciocca for Facial at Colori Salon, she is awesome!
Jan: I like showering in my friend's showers and seeing what products they use.
9. Do you give yourself facials / body treatments at home? If so, how?
On Sunday mornings we have a ritual of walking on the beach; collecting thoughts, shells and sometimes trash. Then we come home and try a new a face mask.
During football season the game is on too. JETS fans over here, so a green mask is a go to. Thanks to 23SKIN we've been scrubbing down with with Seaweed Masks and painting each other's faces with Matcha Masks.
We mix the seaweed scrub with olive oil, warm water, salt and a little honey. We mix the Matcha Mask with Coconut oil and water. These magic green concoctions leave our skin glowing, firm and sooo soft!
We top off this 'green ritual' with a green smoothie. A new favorite combo is Kale, Spinach, Banana, Flaxseed, Matcha Tea, Almond Butter, Vega One, Collagen Powder. When you're green you're clean! Cheers!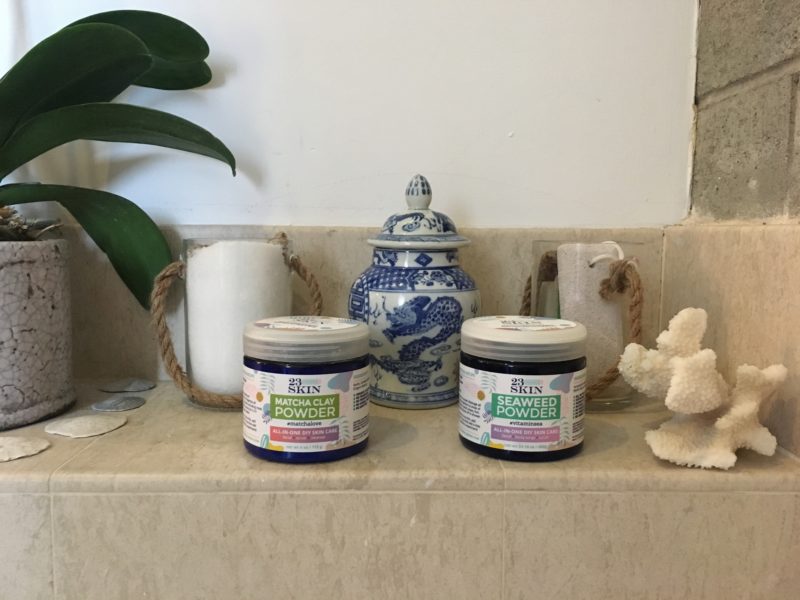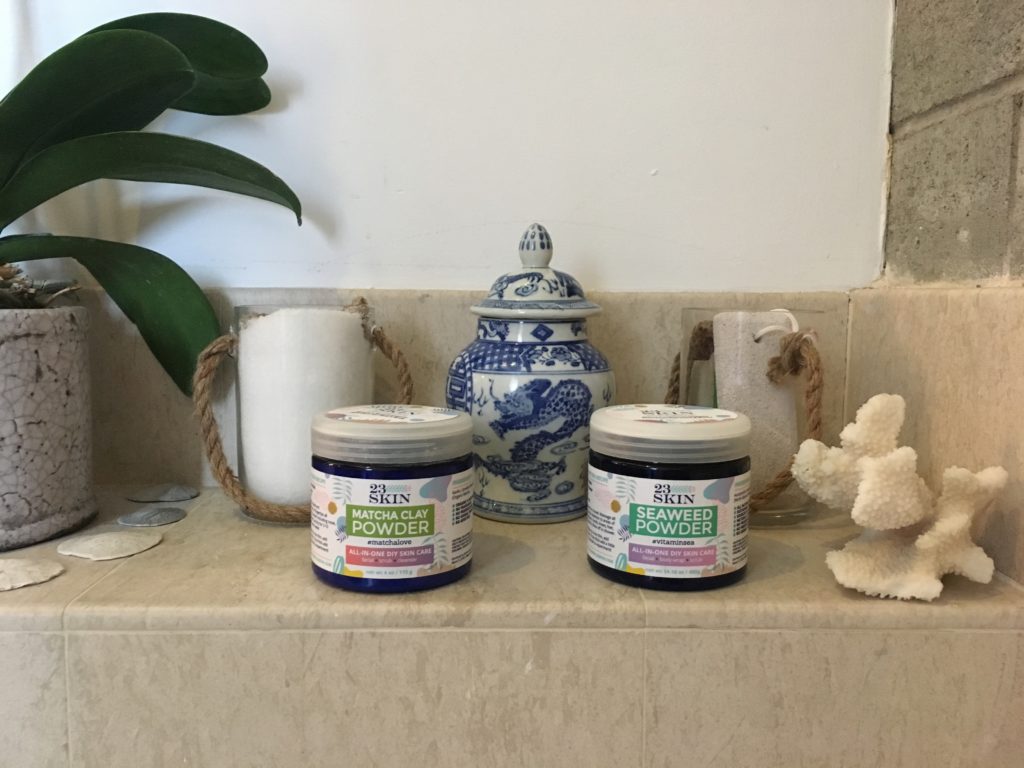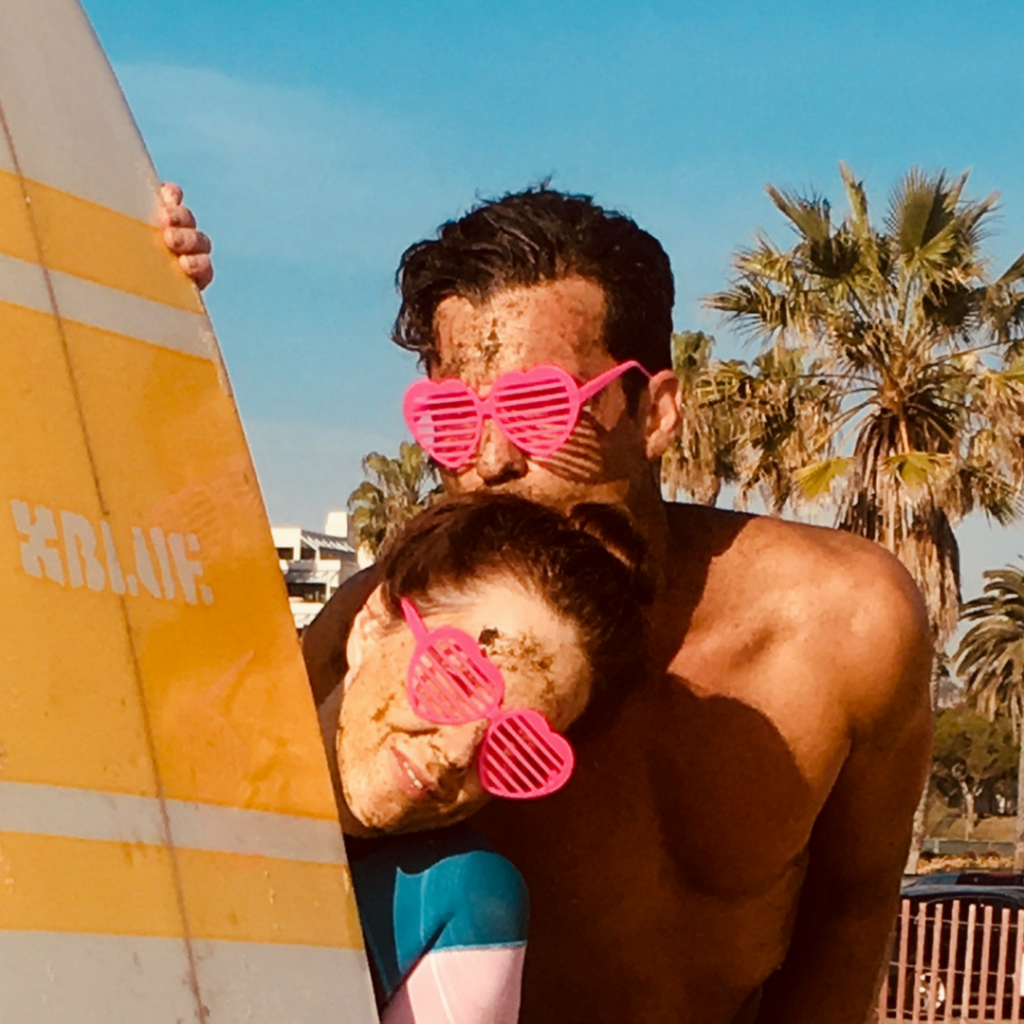 10. Are you a bath or shower person?
Io: Ahhh I love a hot/cold shower in the AM, but after a long day a hot epsom bubble bath is pretty divine. It's like choosing between Spring or Fall in NY, I love both!
Jan: I'm definitely a [easyazon_link identifier="B00120VWJ0″ locale="US" nw="y" nf="y" tag="bsomethingusa-20″]Dr. Bronner's Peppermint[/easyazon_link] shower person.
Io: …except for those times I find you in a bath with the computer propped up on a chair next to the tub watching Netflix 😉