Cool girl Erica Stolman does it all-from her amazing lifestyle blog Fashionlush (where she discusses latest trends + life changing beauty hacks to mental health awareness…and now even wedding planning, and home decor as an upcoming bride and new home purchase!) to being the Co-Founder of Blog Doo; a RAD blog design agency she created with her best friend, Lauryn Evarts (you may know her from The Skinny Confidential) to even now creating her own new brand Fashionkush.
Besides being a beauty expert on Fashionlush, in her free time you can find Erica reading a book, applying skincare, browsing the web for wedding dresses, coding websites for blog-doo, and hanging out with her fiancé (soon to be hubby) and two fur babies-Howard & Ruby!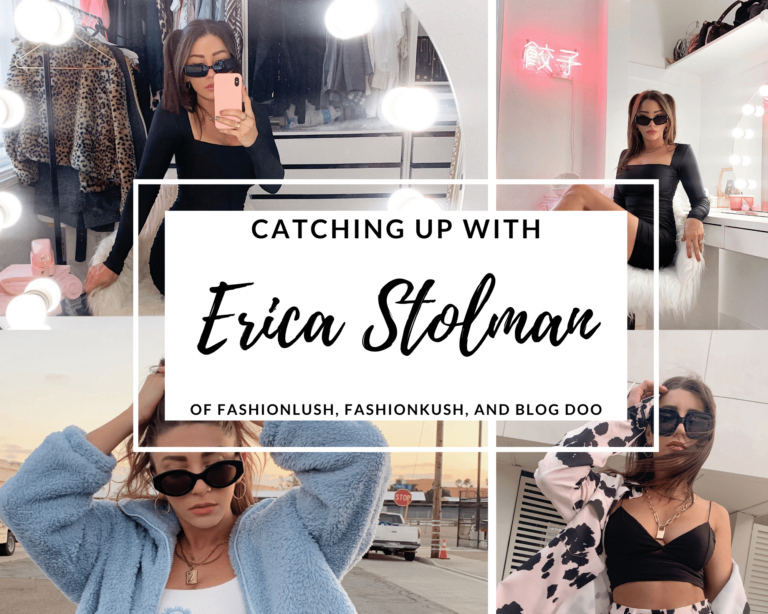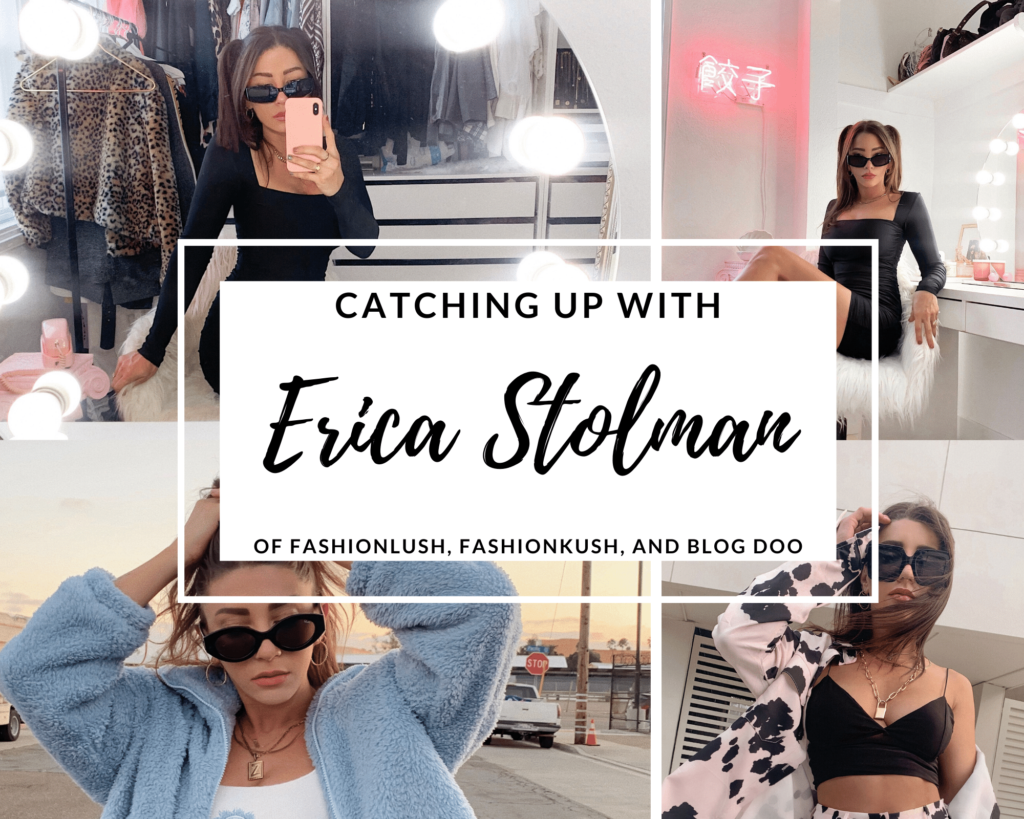 1. Growing up, what were some of your first beauty memories? (a favorite scent memory or watching your mother, aunt, friend etc apply makeup or skin care).
my grandma was VERY religious about her skincare, so that is definitely one of my first memories. Every night she would go to bed with frownies on her face (for those who don't know: they are patches you wear over problem areas to help control your wrinkles while you sleep, they still sell them & they do work!).
When I first got into makeup I was very obsessed with Bobbi Brown & would go to all of her classes/get all of her makeup application books. Bobbi Brown brings back memories for me big time! OH, this one is kind of embarrassing, but I was obsessed with St.Ive's apricot scrub when I was younger. Apparently that stuff is way too rough for your skin, but back then it was all the rage.
2. Who taught you about beauty or was it something you discovered on your own?:
I have an older sister & my Mom has AMAZING skin- so I definitely looked up to them when it came to all things beauty! As mentioned, my Grandma was very serious about skincare & insisted that we take care of our skin starting young, so that definitely had a huge impact on me as a kid considering she ALWAYS looked so much younger than she actually was.
In junior high, I started to get REALLY into makeup & and at that point I would learn everything I needed to know from my friends! Then the internet took over & now YouTube is my greatest teacher.
3.Who is your favorite celebrity that you look up to when it comes to skincare + beauty goals?:
Hailey Baldwin/Bieber! She always looks so glowy & fresh faced!! What I would give to get a sneak peak at her vanity/favorite products! OH- & I love @Namvo on Instagram. She coined the phrase "Dewy Dumpling" & her makeup artistry is a DEWY DREAM. It's actually kind of mind blowing how glowy she gets people looking.
4.What are your Beauty-rituals? AM/PM
AM.What is your Morning Skincare routine?
+ I first wash my face with SkinScript Green Tea Citrus Cleanser– this cleanser is great for acne prone skin!
+ Olehenriksen Truth Serum (I like using my Vitamin C serum in the am!)
+ Peach & Lily Cold Brew Recovery Stick, an essential for morning undereye circles
+ Glow Recipe Watermelon Glow Pink Juice Moisturizer is my go to morning moisturizer because it's light, but effective!
+ finish it off with a layer of SPF, this one by SPFrx is my favorite as it contains hyaluronic acid & protects against HEV light from our computers (more on that here)
PM.What is your Nightly Skincare routine?
+ wash my face with either my SkinScript Green Tea Citrus Cleanser or once a week I exfoliate with Skin Authority's Exfoliating Cleanser(the modern, less abrasive, version of my beloved St. Ives scrub!)
+ I take a cotton ball soaked with Botnia's all natural toner to ensure no makeup is left on my skin!
+ then I apply Peach & Lily's Glass Skin Refining Serum to help fade some dark spots/acne scars
+ I also use Face Reality's Mandelic Serum to keep my annoying hormonal acne at bay, but I believe you have to get this from a derm!
+ Then I moisturize my skin like crazy, start with Skin Authority's Ultra Rich Moisturizer (love this brand for non pore clogging ingredients!)
+ I give my undereye's some love with Olehenriksen Banana Bright Eye Cream
+ If my skin is feeling EXTRA dry, I will sometimes add in a thin layer of Youth to the People's Superberry Hydrate + Glow Dream Mask
+ & then, to end off the moisture, I seal everything in with Lueur's AMAZING CBD facial oil & do a quick gua sha treatment!
+ lastly, a spritz of Evian spray!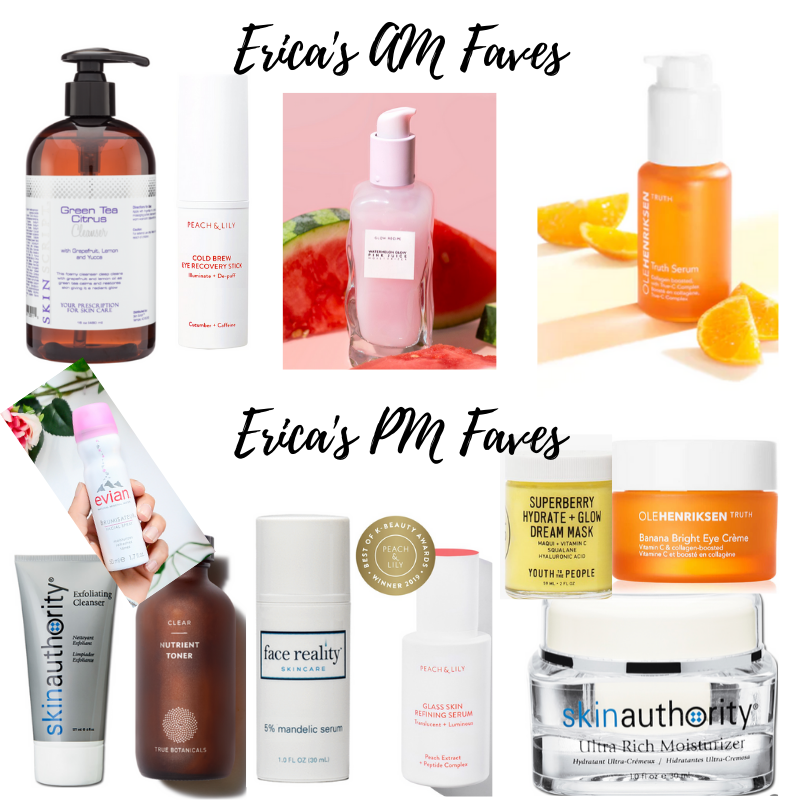 5. When traveling, what's a must-have product in your carry-on?
a mini Evian spritz! I live for a skincare spritz & this is a great little pick me up on the plane! If it's a long flight, I always bring a super moisturizing sheet mask for the flight as well- flying is SO dehydrating for your skin. I love these sheet masks by Lapco.
6.Best products under $40?
+ Glow Recipe Watermelon Glow Pink Juice Moisturizer: this really is a great moisturizer, and the bottle is so cute for the vanity
+ Evian spray: I know, I already mentioned this twice- but PLEASE, you need an Evian spray. It honestly is like a glass of water for your skin. I have bottles back stocked in my house because I can't live without it!
+ Olehenriksen Banana Bright Eye Cream: the BEST eye cream in the game. It's got a cult following for good reason.
+ Peach & Lily's Glass Skin Refining Serum: glass skin is ALL the rage these days & this serum is the key to glass skin. I swear by the stuff.
+ Gua Sha tools: I love to do Gua Sha facial massage on myself after I put on all my products & highly recommend everyone have a Gua Sha tool!
7.How do you pamper yourself?
I take a hot bath, grab a good book, do a Lord Jones CBD soak, put on a sheet mask, & if I am really treating myself, a massage over the sheet mask with my cold roller balls.
8.What's your favorite go-to LOCAL spots to get a treatment? AND what treatment/s do you get?
Alcheme: my go to spot for botox, but also they offer a great DEEP cleaning facial that I love!
Shop Good: the place to go if you are all about natural skincare, they have so many amazing products & know how to give an AMAZING facial massage.
Lumos Skincare Studio: this is where i go for more acne focused facials when my hormonal acne is acting up!
KMW Skin Care: just went here for a lash lift & I am hooked! I am allergic to lash extensions, so this is an AMAZING alternative & Katie is amazing.
Bluxom Salon: where I go for hair & nails!! I see Mia for my hair, which they have TRANSFORMED & I go to Bronte for "nail rehab"- Bronte is a natural nail specialist & has been helping me grow out my natural nails.
9. Favorite/least favorite beauty trends at the moment?
Favorite: korean skincare!!! I love Korean skincare & really have tried just about everything when it comes to K-Beauty, it's one of the reasons I love Peach & Lily so much- Korean skincare with a focus on clean ingredients!
Least favorite: cute branding, bad ingredients. I am all about cute branding, but since I have been trying to pinpoint my hormonal acne, I am much more aware of ingredients in products & it's always disappointing to get a product that LOOKS amazing & is full of pore clogging ingredients.
10. What is your favorite natural ingredient in skincare?
CBD for sure!! I know I mentioned this above, but I love CBD. It does wonders for my skin & is one ingredient that makes a VERY noticeable difference in my skin!! Oh, & hyaluronic acid is A MUST for bouncy/dewy skin!!