Alexa Blake is a wife, and mother of 2 beautiful boys with a strong love for makeup artistry. After becoming a mom and spending most of her time with her kids, Alexa wanted an outlet for herself to share her passion for makeup and within that to also be able to create a place where women can come and get inspiration. Whether it was a beginner who needed a place to start or a mom like herself who just wanted to rock a red lip in carpool, this has always been Alexa's passion project.
With her beautiful creative makeup looks on Instagram handle MakeupBlake, Alexa also shows you how she get's her flawless makeup looks on her Youtube Channel ; there you can dive in and find stunning makeup creatives for every type of occasion while finding some inspiration! We dove right in to find out Alexa's beauty secrets, and die hard favorite products as someone who is all about finding conscious beauty alternatives that are cruelty free!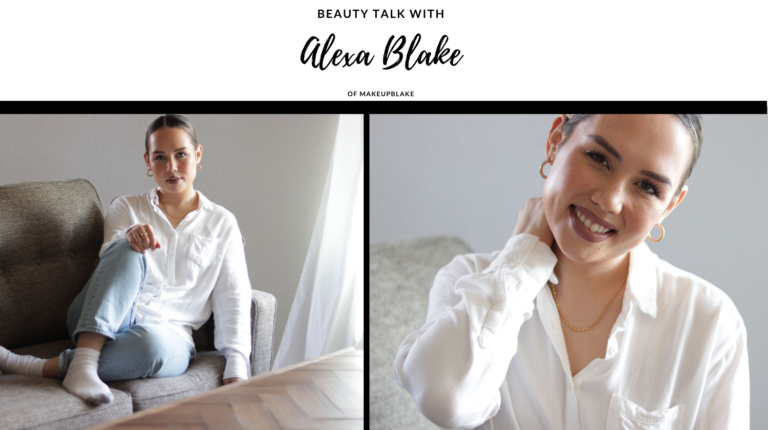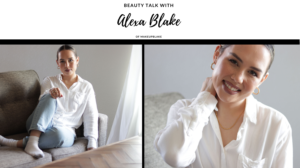 1. Growing up, what were some of your first beauty memories?
My first memory I have of makeup is watching my mom apply lip liner in her bathroom. It is such a vivid memory, which is kind of crazy because I was very little. My mom always had bins and bins of makeup – every shade of eyeshadow you could imagine, dozens of lipsticks, and pencils all jumbled in these bins under her bathroom sink and to me, it was absolutely fascinating.
2. Who taught you about beauty or was it something you discovered on your own?
My mom was always a very strong beauty influence for me. She made sure I had a set skincare routine from the time I was in middle school and I always loved going to the MAC counter with her. I grew up going to hair shows with my parents and I was able to see a lot of the talent & artistry that goes into makeup. Both of my parents were always open to me wearing makeup, experimenting with color, and creating my own identity through my makeup. I was a good kid, I got good grades, and I love that my parents allowed me to play and have fun with my appearance.
3.Who is your favorite celebrity that you look up to when it comes to skincare + beauty goals?
I am in total awe of Alicia Keys' skin. She always looks so incredible without makeup. Her confidence is inspirational and I love that young girls can see such a positive beauty influence
4.What are your Beauty-rituals?
As a whole, I have simplified my skincare routine a lot. I have experienced an overwhelming number of skin issues over the past year since moving towards a more natural, cleaner routine.
A.M. Skincare Routine:
First thing in the morning, right after I brush my teeth, I apply the Tata Harper Regenerating Cleanser all over my face. This is an amazing treatment cleanser so I let this sit on my skin like a mask while I make my bed, get coffee, make my kids' breakfast, etc.

After rinsing off the cleanser, I apply my SPF, which is currently the Elta MD UV Clear SPF 46. This wears great under makeup, doesn't leave a white cast, and feels moisturizing.

As my last step, I apply Weleda Skin Food Light every single day. This is my go-to daytime moisturizer and it also works great as a primer before makeup.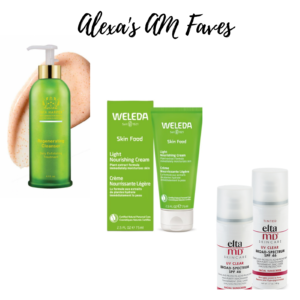 P.M. Skincare Routine
My nighttime skincare routine is more complex because I like to do treatments, use acids, and really target specific areas that I am concerned about.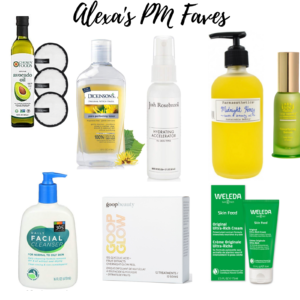 5. When traveling, what's a must-have product in your carry-on?
I always keep a facial mist with me to freshen up. I have to have Weleda Skin Food with me everywhere I go. Also, a really good lip balm. My all time favorites are the Kari Gran Lip Whips.
6. Best products under $40?

Raw, organic, unfiltered honey – this is such a great ingredient to mix in with masks or wear on its own.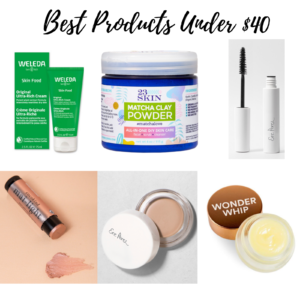 7. How do you pamper yourself?
I am a mom of 2 boy toddlers so pampering myself has to be quick, but my favorite thing to indulge in is a good mask. I can apply them really quickly and still go about my day/night. One of my favorites is the 23 Skin Matcha Clay Powder because the ingredients are simple, you can mix it with ANYTHING, and it always makes my skin look great. I also love the Tata Harper Clarifying Mask when I am having breakouts and the Farmaesthetics Herbal Hydrating Remedy Reserve Mask when I am feeling dry.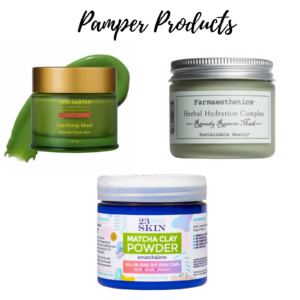 8.What's your favorite go-to LOCAL spots to get a treatment?
It is a little difficult for me to go somewhere and get treatments, but my local Credo store has a Tata Harper Spa and they offer a bunch of beautiful facials.
9. Favorite/least favorite beauty trends at the moment?
My favorite beauty trend at the moment is definitely the more minimalist/no-makeup makeup look. I love a good fresh face and honestly, it's basically all I have time for these days.
My least favorite trend is heavy concealer. Everyone is different and has there own makeup routine, but this just isn't for me.
10. What is your favorite natural ingredient in skincare?
Honey is an ingredient I get super excited about. Honey is so amazing for the skin, it is very soothing, fights off free radicals, smells amazing, and really helped me when I was dealing with a lot of breakouts over the past year.