Lauren White, the all things beauty enthusiast who is real about what products she trusts on her face dedicates her blog awhollybeautifulyou to informing her readers about healthier alternatives to conventional products; it is her goal to bring you the safest, most natural, and effective swaps to your favorites!
Lauren is a native Texan currently residing in California with her husband, daughter, and fur babies. When she's not working, you'll find her nose in a book and a cup of coffee snug in her hand. Loves: ice skating, walking through rose gardens, sunshine. Dislikes: clutter, emotional decision making, dirty makeup brushes. We dove deep in to find out her clean beauty routine and what it takes to be
AWhollyBeautifulYou!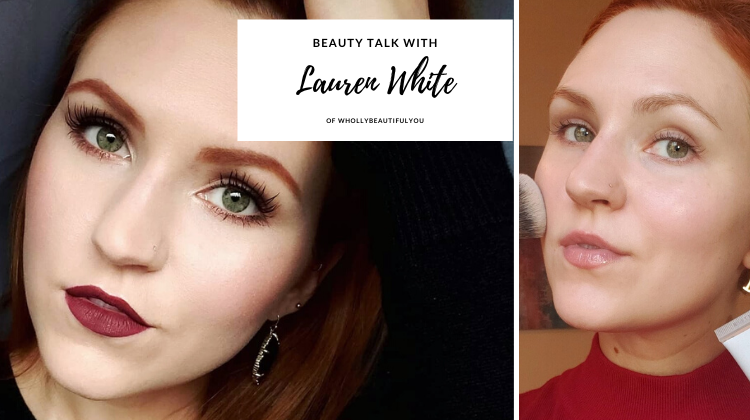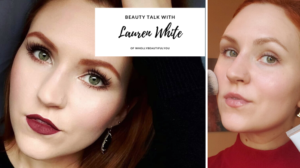 1. Growing up, what were some of your first beauty memories? (a favorite scent memory or watching your mother, aunt, friend etc apply makeup or skin care?)
I loved playing with all my mom's makeup and perfumes. She had Rapture by Victoria's Secret which had a heart shaped gold and glass bottle that I loved. I also think I snatched just about every tube of Loreal Voluminous she owned haha! When I got a little older, one of my friends mom's always smelled so good, and once I found out her perfume, I got the biggest bottle I could…it was Victorias Secret Heavenly. Clearly Victoria's Secret is doing something right with their perfume! Haha
2. Who taught you about beauty or was it something you discovered on your own?
My mom definitely had a role in shaping my interest in beauty from a young age. I hoarded Allure magazine and constantly looked for my next look inspiration. I was also notorious as a teen for bleaching and dying my hair much to my mother's – and bathroom cabinets – chagrin.
3. Who is your favorite celebrity that you look up to when it comes to skincare + beauty goals?
It has ebbed and flowed over the years…I honestly don't know who that person is for me anymore, I've just found what I really like and what works for me. Some days I'm extra bougie, and others I'm the ultimate minimalist. I really just do whatever I want and don't aspire to emulate someone else's routine at this point in my life.
4. What are your Beauty-rituals? 
AM.What is your Morning Skincare routine? I typically skip cleanser and just rinse my face off with cool water. Then I'll apply a face mist like the Josh Rosebrook one or Trilogy and follow up with a serum if I feel like it, Bella Aura Daily Repair Moisturizer, and Fitglow SPF30
PM.What is your Nightly Skincare routine? For night-time I usually wash my face with castille soap because it takes off my makeup in one fell swoop, and then I mist my face, apply a serum like the C advance from Silk Therapeutics, Instant Lifting Eye Contour & Night Cellular Renewal from Bella Aura. If I'm massaging my face, I'll apply an oil. I've also started Dermarolling, the Gin Amber rollers have been the best I've tried!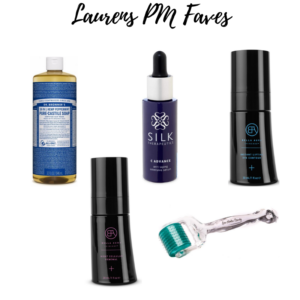 5. When traveling, what's a must-have product in your carry-on?
Well…my carry on is the ONLY bag I bring, I detest checking bags, so really everything is at my disposal. But I cannot fly without a really rich lip balm, preferably one from Fitglow.
6. Best products under $40?
For makeup, I love Glossier and Honest beauty. Skincare gets a little tricky for me…I swear by castille soap though. Why spend a ton on something that literally goes down the drain nearly immediately, ya know?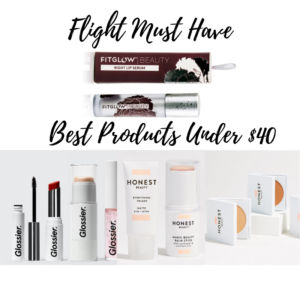 7. How do you pamper yourself?
I mask weekly, massage my face almost daily, I use infrared light on my face. If I have the time, I make the hottest bath I can stand and dump a few heaping cups of epsom salt in, pop on a face mask, light some candles and bliss out for a little while.
8. What's your favorite go-to LOCAL spots to get a treatment? AND what treatment/s do you get? 
This might sound crazy, but I really don't do a ton of treatments aside from getting my hair cut! I'm very DIY and color my own hair, do my nails, etc. I'm a licensed hairdresser so I've had the training and the experience, I just can't easily cut my own hair. I also have a nearly 1 year old, so my time to go get things done is very limited – read, basically non-existent.
9. Favorite/least favorite beauty trends at the moment?
Favorite…I love that people are starting to embrace their brows more without going overboard on plucking or filling! I also love microblading/powder brows and its definitely on my radar of things I'd personally love to do. Anything that will save me time is high on my priority list! Least favorite: um…I don't know! I tend not to focus on things I don't like.
10. What is your favorite natural ingredient in skincare?
One of my absolute favorite skincare discoveries is probably honey! I love how juicy and plump it makes the skin feel.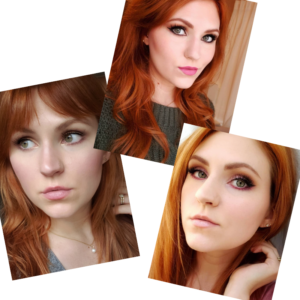 Via IG @whollybeautiful