It's been a year since we last interviewed, Ria Michelle, the Miami blogger and content creator behind the blog RiaMichelle.com where she talks all things fashion, beauty and travel. This time we actually got to sit down with her at OTL for some "coffee talk" (she ordered an iced Americano) to find out all of her beauty secrets including her favorite products and tips!
We loved getting to know Ria, and we could have probably kept chatting about beauty routine's, empties (you know those beauty products you really can't get enough of) and Twitter (yes a little nostalgia from the aughts when we were all super-users). Watch the full convo below:
Interview Highlights
Tell us a little about yourself:
I'm Ria Michelle and have a blog called RiaMichelle.com and I started it because I love being online & building websites. Then I discovered fashion blogging and it was a mix of everything I like; building websites, taking pictures, fashion and then of course Instagram came around so I got on there. Then I started doing interesting campaigns and projects with brands and that's kind of how it all started.
Nail Tips & Go-To Nail Place in Miami?
My nails grow really quickly, I don't do vitamins or anything like that; I guess I just got lucky. My nail girl is @RoseBNails or I go to Vanity Projects in the Design District.
Shave, Wax, Or Laser?
I do all 3; I laser areas where you don't really want hair to grow such as my under-arms and bikini line. I wax my eyebrows, and lips and I shave my legs just because I don't get hair there very often so I shave my legs once every few months.
Bath Or Shower?
Shower! I love taking a bath in fancy hotels or a fancy tub. I have a great spa-type bath right now in my apartment but I do really love taking a long hot shower.
Makeup or Skincare?
Skincare! I actually kind of know what I am doing with skincare so I feel like I put more effort into my skincare. And of course the more effort you put into skincare the less makeup you need. I am not a person that likes to contour and do all these amazing things with my makeup so I need my skin to have a good foundation!
Facial or Mani/Pedi?
I can live without the facial, I love facials but I cannot live without a Mani/Pedi – absolutely not. My nails are like always out there! And toes – I just feel like once your toes are done you can like put them in any shoe and they look cute and it's perfect!
Favorite Hair Care for Florida Humidity?
So I focus on protective styles during the heat of summer – no matter what you do or what products you use, your hair will swell in Florida humidity. I do edge control, and dry shampoo like I do it all but the best thing that works for me is a mix of edge control, hair spray, and doing some sort of protective style like braids or like a pony tail where I only have to do the front and that's where the edge-control comes in…and braids usually last me like 2 months.
Beauty Product You Can't Live Without?
Concealer. I just feel like even when you aren't wearing any makeup you just cover up your bags and you are good to go, especially if you take care of your skin. That and maybe lashes. I use the Fenty Concealer, it pairs well with my foundation (you find your foundation shade and you go to the same number, it's so easy).
Favorite Ingredient in Skincare?
Daytime and night-time routines are different for me. So I am looking for things that you can't really use for the day for night-time. So now I am really into Retinol. I am getting older, so I need more actives on my skin and doing more for my skin. So I think right now my 2 favorite skincare ingredients are Retinol and Vitamin C. Vitamin C for the day and Retinol at night.
Top 5 Beauty Products
I am really loving Wander products from Wander Beauty. They just released 2 skincare products the serum and the night cream (which has retinol in it) and I really love it. On the package it says you'll notice a difference and it's true.
The day serum, I feel like it firms and tightens and it's really nice before I get into my moisturizer. I love to switch up products very often, so usually when people ask me "what are your top 5" I'm like "well, currently…" since I get access to so many different products. It's cool to try out a bunch of different things and then my favorites are always changing.
So right now it's those 2 from Wander Beauty. Also I tried out the new Summer Fridays Serum –that's amazing. I love serums if you can't already tell. Just that good base after your toner. When you use serum, I really feel like it put's your skin together. The Summer Fridays firms and brightens; like I feel a noticeable difference from using it.
My favorite dry shampoo at the moment is the Ouai – it's really good. My favorite thing for my nails is my nail artist @rosebnails since I do nail art, she's amazing anything I come to her with she can do it, she will find some way to incorporate the idea and no matter how intricate the design is she always got me.
Favorite Fragrance?
My absolute favorite right now is Byredo Bal d'Afrique -it's so good and it's the fragrance I get the most compliments on. I also love Francis Kurkdjian A La Rose -it's also really nice but I definitely get more compliments on the Byredo.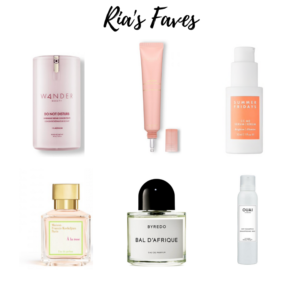 Find Ria At: