Miami-based fashionista, Bianka Walker always had a passion for fashion and shares her style tips and trends daily at TheBiankaStyle.
We love following her style and wanted to learn more about this 28 year old blogger's beauty rituals. We hope you get a healthy dose of inspiration from this natural beauty.
Read the full interview below…
1. Growing up, what were some of your first beauty memories?
I grew up in Ecuador, South America, where everything is natural and organic. Therefore, my mom taught me all of the recipes. I'm pretty sure that's the reason my skin is flawless. The first thing I remember is an egg face mask. I know it sounds horrible but it really helps! Another thing they did was the now famous coffee scrub. Who knew it would be so "in" right now? Haha.
2. Who taught you about beauty or was it something you discovered on your own?
My mom taught me everything I know about beauty and taking care of my body, skin and hair. I owe her everything I know. She's even the one who inspired me to have this passion for fashion since I was born. (Literally, she made sure I always had the cutest outfits)
3. Who is your favorite celebrity beauty look?
I will have to change this question a little and I need to be honest about it. I don't follow celebs as much as I do bloggers. I could talk for ages about my favorite bloggers but when it comes to beauty look, I would go with Paola Alberdi from Blank Itinerary. Her face and skin is always glowing and what I love the most is that she doesn't need to wear tons of make-up to look gorgeous.
I am not a make-up type of person either and that's why I feel very identified with her. Simple is best and for me, natural means beauty.
4. What are your Beauty-rituals?
ALWAYS wear sunblock, if it's colored then you wont need to use foundation (Your pores will thank you). I always do my eyebrows and wear concealer. I suffer from dark circles under my eyes so that is a must for sure. I curl my eyelashes, wear some blush and I'm ready to go! As I mentioned before, I don't wear tons of makeup so I try not to wear mascara everyday! Only if I have to.
A.M.
I wash my face with an oatmeal natural soap or Rose Petal soap. Then it begins with serum, my moisturizer and then the sunblock.
P.M.
I wash my face with Garnier face wash and make up remover… After that I wear my serum again and on top I wear a vitamin C night cream.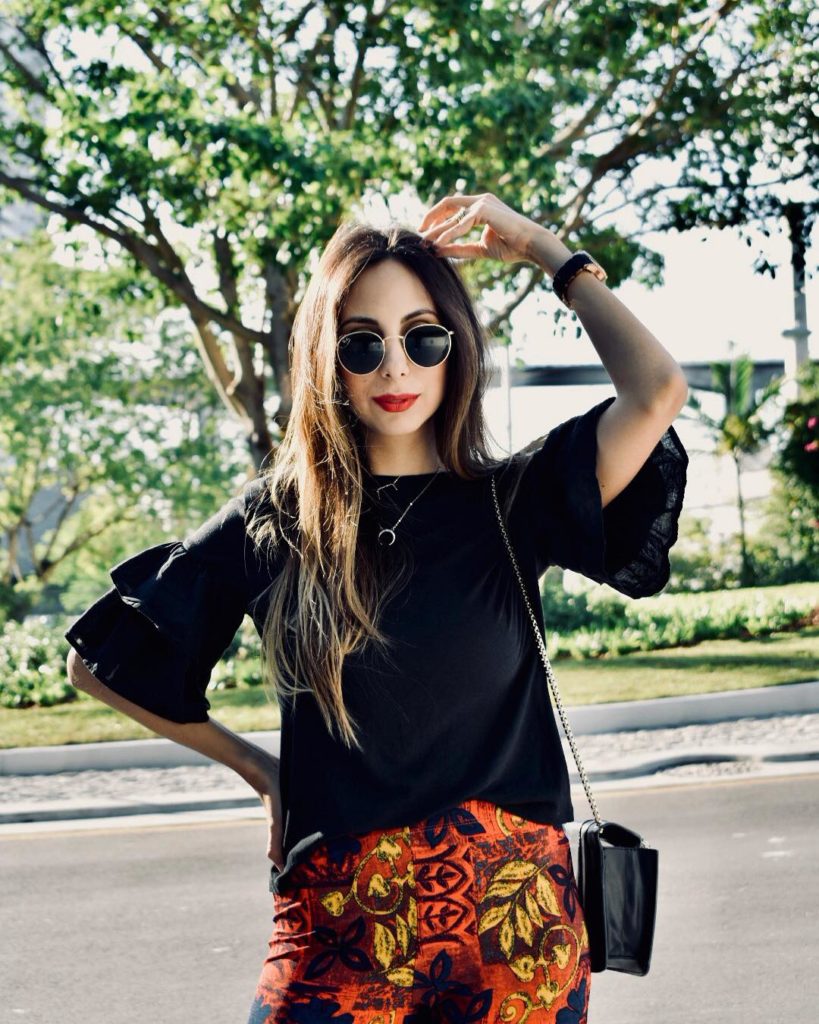 5. When traveling, what's a must-have product in your carry-on?
Concealer always! As I mentioned before, I suffer from dark circles. Imagine them after the plane…
6. How do you pamper yourself?
I looove taking long baths with bath salts while I watch Netflix. Sounds weird and no I don't have a TV in my bathroom (I WISH!) I just take my laptop with me and done!
7. What's your favorite go-to LOCAL spots to get a treatment? 
I don't know if I should be embarrassed about saying this but I never go anywhere to do any treatment. I do it at home with my own stuff. I love natural things so I have my own DIY recipes.
The only thing I do is get my mani and pedi of course! I don't have a favorite place though, just depending on when I have time and where I am.
8. Do you give yourself facials and body treatments at home? If so, how?
Of course! ALL the time! Facials every week. Usually I do hydrating ones cause my skin is kind of dry. I love using the coffee scrub, it makes my face so soft and bright!
9. Are you a bath or shower person?
Depends, when I have time to pamper myself I will choose a bath for sure. But I barely have time so I don't do it often. I love the shower too! I like taking long showers while I listen to music